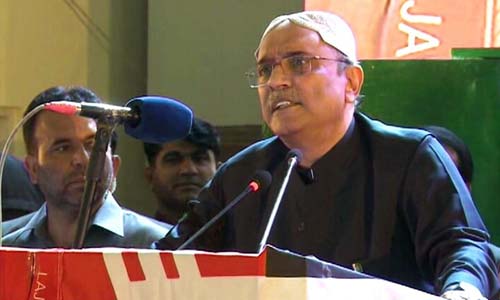 Zardari slams slogans against 'institutions'
Staff Writer
Karachi: Former president and Pakistan People's Party (PPP) Co-Chairman Asif Ali Zardari has strongly condemned sloganeering against state institutions in an event held in Lahore, according to an official statement.
The statement comes days after several videos of the anti-establishment sloganeering against the surfaced on social media, among other videos carrying speeches of judges, ministers, and others.
During Foreign Minister Bilawal Bhutto Zardari's speech at the Asma Jahangir conference, several people from the audience also stood up and chanted slogans for the release of a lawmaker.
Reportedly, when his speech was interrupted several times, Bilawal told the protestors to demand his release from those who have the power to release him.
"No platform should be used against institutions," Zardari said in a statement.
He also said that the survival of Pakistan depends on our institutions and it is a pity that one person has given nothing but abuse and hatred to this country.
"We all know where this person is coming from and at whose request he is spreading hatred against institutions," he was quoted as saying in the statement.
The former president also said that "our soldiers and officers are sacrificing their lives in their uniforms and slogans against them are highly condemnable".