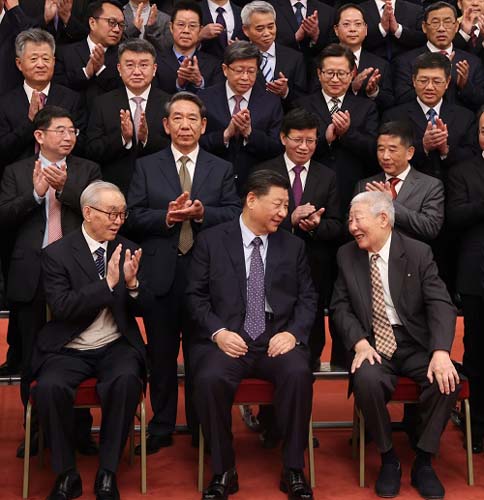 Xi lauds progress in space missions
Zhao Lei – China Daily
Beijing: President Xi Jinping encouraged Chinese space industry workers on Monday to strive for successes in the nation's future lunar explorations and carry out interplanetary expeditions with a methodical approach.
Xi, who is also general secretary of the Communist Party of China Central Committee and chairman of the Central Military Commission, urged space industry workers to take advantage of China's unique resource-mobilization system, which is characterized by its ability to mobilize all available resources to overcome difficulties and achieve its goals, when they make plans for, and conduct, future space programs.
He also asked them to foster more innovation and growth in the country's space science, technology and application sectors, and strengthen international cooperation to make bigger contributions to the well-being of mankind.
The president made the remarks on Monday morning as he visited an exhibition at the Great Hall of the People in Beijing about the Chang'e 5 lunar mission, China's most sophisticated and challenging space adventure, which brought back the world's first lunar samples in more than 40 years.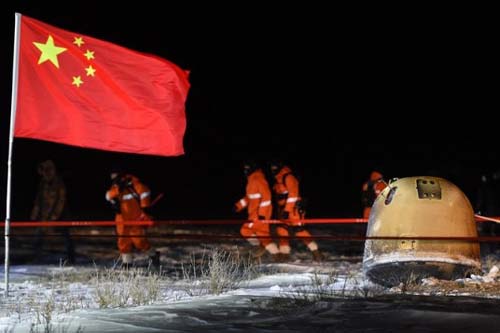 Xi listened to a report made by Zhang Kejian, director of the China National Space Administration, about lunar samples, project developments, scientific findings, international cooperation and future plans. He also inspected a sample of lunar soil obtained by the Chang'e 5 mission.
Xi called Chang'e 5's success the latest accomplishment made by the nation's resource-mobilization system and a significant landmark in the country's development as a world-class space power.
Before visiting the exhibition, the president met representatives of space officials, planners, scientists, engineers and technicians who worked on Chang'e 5. Premier Li Keqiang and other top leaders also took part in the two events.
The most significant event in China's space endeavors, and also one of the world's most notable space activities, the Chang'e 5 robotic mission was launched on Nov 24 at the Wenchang Space Launch Center in southern China's Hainan province and successfully landed on the moon on Dec 1, becoming the world's third spacecraft to touch down on the lunar surface since the mid-1970s after its two predecessors-Chang'e 3 and 4.
The landmark mission brought 1,731 grams of lunar rocks and soil back to Earth, achieving a historic accomplishment about 44 years after the last lunar substances were brought back from the moon.
The 23-day mission was China's first space journey that retrieved lunar samples, and made China the third country to achieve this feat, after the United States and the former Soviet Union.
The samples were delivered by the space administration to the National Astronomical Observatories in late December.
Chang'e 5's orbiter is now flying toward Lagrange Point 1, which is located between the Earth and the sun and is an ideal position for monitoring solar activities, to conduct extended scientific operations.