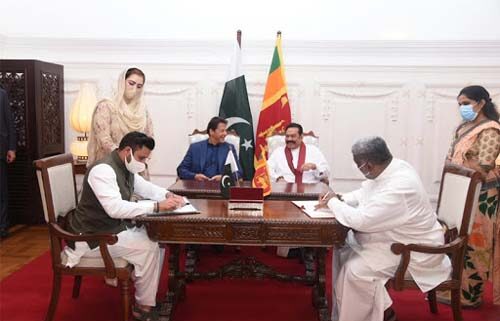 Pakistan, Sri Lanka can multiply economic ties through CPEC: PM Imran Khan
Gwadar Pro
Islamabad: Pakistan Prime Minister Imran Khan this week said Sri Lanka can multiply its economic and regional ties with Pakistan by joining China-Pakistan Economic Corridor Project (CPEC).
The premier, who was Sri Lanka on two day visit, stated this during a joint news conference with his counterpart Sri Lankan PM Mahinda Rajapaksa.
PM Khan said Sri Lanka could get access to Central Asia through Pakistan, adding that CPEC will boost trade in the region.
The premier highlighted that both Pakistan and Sri Lanka were facing same challenges in wake of COVID-19 pandemic and terrorism.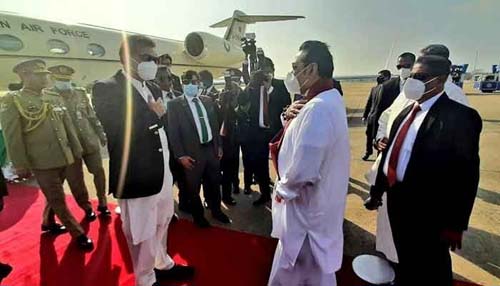 Prime Minister Imran Khan and his Sri Lankan counterpart, Mahinda Rajapaksa earlier held a one-on-one meeting and discussed issues of bilateral and regional importance, said an official statement issued here.
"Through the CPEC, economic ties can be extended to Central Asia and Sri Lanka. Pakistan is an important component of the CPEC, which would open new avenues for the development of regional ties," PM Khan said.
The two leaders also affirmed the resolve to strengthen relations in diverse areas in the meeting held at Temple Trees – the Sri Lankan prime minister's office – and focused on strengthening ties in areas of trade and investment, health and education, agriculture, science and technology, security, culture and tourism.
The Pakistani premier is the first head of government to visit Sri Lanka after President Gotabaya Rajapaksa and PM Rajapaksa assumed office last year, indicating the importance both countries attach to their important relationship.
Pakistani and Sri Lankan leadership reaffirmed their resolve to work together across a broad range of areas. They acknowledged the immense opportunities and vast potential for mutually beneficial collaboration in the areas of trade and investment, IT and human resource development, agriculture and science and technology, security and defence cooperation, and culture and tourism, said the official statement.
Appreciating the rich Buddhist heritage of Pakistan and existence of great potential for religious tourism, it was agreed to enhance mutual collaboration including through sharing expertise in the hospitality industry, training and capacity-building.?
Both sides expressed satisfaction at the close cooperation between the two countries at multilateral fora and resolved to further deepen strategic communication and coordination at all levels.
It was also agreed to keep the momentum of high-level exchanges between the two countries.
The two sides reiterated their commitment to the principles and objectives of the South Asian Association for Regional Cooperation (SAARC) Charter and agreed on the importance of taking forward the SAARC process for regional cooperation.