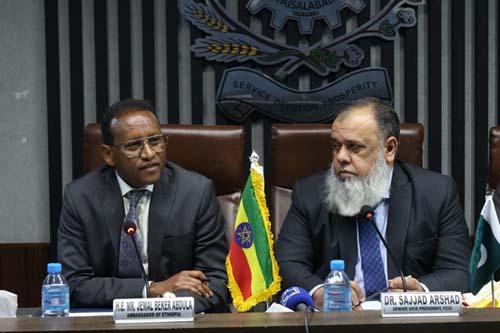 FPCCI vows to sign trade accords with Ethiopian counterpart
Liaquat Ali
Islamabad: The Federation of Pakistan Chambers of Commerce & Industry this week vowed to sign accords with its counterpart from the Federal Democratic Republic of Ethiopia (FDRE) in May to boost the bilateral trade by strengthening trade and commerce ties between the two countries.
FPCCI Senior Vice President Muhammad Suleman Chawla expressed the commitment during a meeting with Ambassador Extraordinary and Plenipotentiary of the FDRE to Islamic Republic of Pakistan H.E. Jemal Beker Abdula.
The ambassador proposed signing of trade agreements between the FPCCI and Ethiopian Chamber of Commerce and Sectoral Associations (ECCSA) during upcoming "Ethiopia-Pakistan Business Forum", scheduled in Karachi during second week of May.
He informed the FPCCI representatives about arrival of high-level official and business delegations from his country during next month.
H.E. Jemal Beker said signing of agreements would be instrumental in promoting institutional linkages between Ethiopia and Pakistan that had huge potential for business, trade and investment in diverse sectors of their economies.
Ethiopia and Pakistan had minimal trade despite such a huge potential, he said while expressing the hope for a significant boost in the bilateral trade in coming months especially in backdrop of a recent visit of a big business delegation from Pakistan.
He said Pakistani business community was keen to increase bilateral trade between the two countries since the ongoing development in Ethiopia's diverse economic sectors had really impressed them during their recent visit to the capital city Addis Ababa.
FPCCI Senior Vice President Muhammad Suleman Chawla assured the ambassador of their full support in organizing the business forum in Karachi. The FPCCI would full participate in the forum to make it a success, he said.
He also lauded the efforts of H.E. Jemal Beker for playing a key role in upcoming launch of the Ethiopian Airlines which was crucial to bolster people-to-people and business-to-business tie between the two countries.