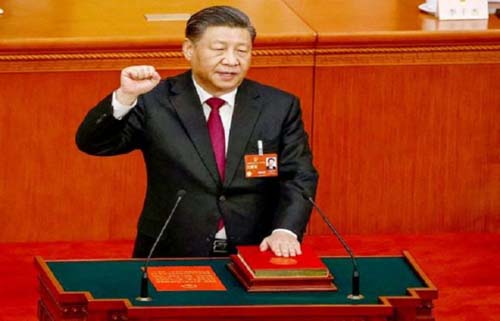 Xi Jinping unanimously re-elected as Chinese President for third term
Newswire
Beijing: Delegates of the first session of the 14th National People's Congress (NPC, parliament) unanimously voted for re-election of Xi Jinping as president of the People's Republic of China to an unprecedented third five-year term this week.
Some 2,952 people participated in the voting. The re-election of Xi Jinping who will turn 70 in June, became possible after the country's constitution was amended in 2018, with one person able to take up the post of the head of the state any number of times.
Xi Jinping was also unanimously re-elected as chairman of the Central Military Commission of the People's Republic of China as announced at the third plenary meeting of the first session of the NPC.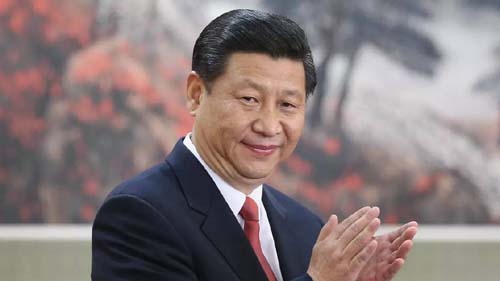 After his re-election, Xi held up his right fist and placed his left hand on a red leather copy of China's constitution.
"I swear to be loyal to the constitution of the People's Republic of China, to uphold the authority of the constitution, to perform my statutory obligations, to be loyal to the motherland, to be loyal to the people," he said, promising to fulfil his duties with honesty and hard work.
In the oath – beamed live on state television across the nation – he vowed to "build a prosperous, strong, democratic, civilized, harmonious and great modern socialist country."
The stage had been set for Xi's new five-year run after a change to the constitution in 2018 that scrapped term limits.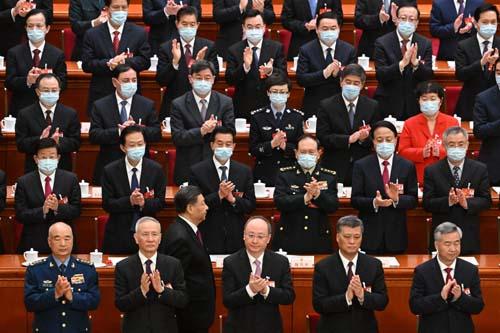 The vote was largely ceremonial as Xi had already locked in a historic third term as head of the Chinese Communist Party at a major party congress last October, sealing his place as China's most powerful leader since Mao Zedong.
Changes to the country's leadership take place every five years and usually closely mirror the reshuffle announced at the party congress.
Zhao Leji, 66, was elected as the new parliament chair and Han Zheng, 68, as the new vice president. Both men were from Xi's previous team of party leaders at the Politburo Standing Committee.