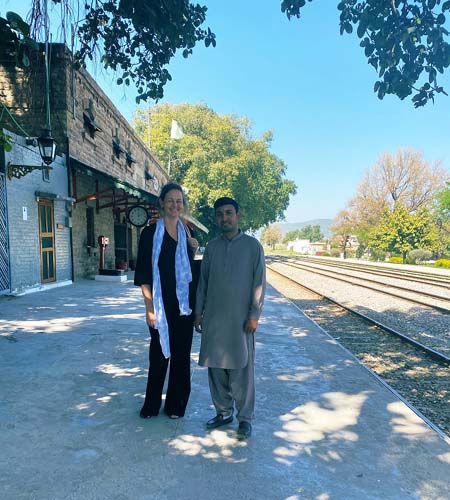 Ambassador Lis Rosenholm enjoys spring in Islamabad
Newswire
Islamabad: Ambassador of Denmark in Pakistan Lis Rosenholm is enjoying the spring in the Pakistani capital as the winters abruptly ended.
"Spring has arrived in Fatima Jinnah Park! Islamabad is so fortunate with green spaces for sport, play, reflection and family time," she tweeted.
Fatima Jinnah Park, also known as Capital Park or F-9 Park, is a public recreational park that spans the whole of Sector F-9 of Islamabad, Pakistan. It is named after Madar-e Millat Fatima Jinnah, the younger sister of the founder of Pakistan Muhammad Ali Jinnah.
At 304 hectares (750 acres), it is just smaller than New York's Central Park. It was designed by Michael Japero, and was inaugurated in 1992.The park's original master plan was prepared by the Japan International Cooperation Agency, and was revised in 2005 by Pakistani architect Nayyar Ali Dada.
Fatima Jinnah Park's vast acreage is mostly covered by greenery, with a few man-made structures dotting the landscape. Most of the park area is effectively a wildlife sanctuary, except for a few areas of the park that are close to residential districts.
The park is bounded by a steel fence with entrance doors placed at regular intervals, although only a few are routinely open and used.
A further strip of land outside of the fence is lined with a footpath. A well laid network of footpaths lies inside the park, with neat grass and a few statues.