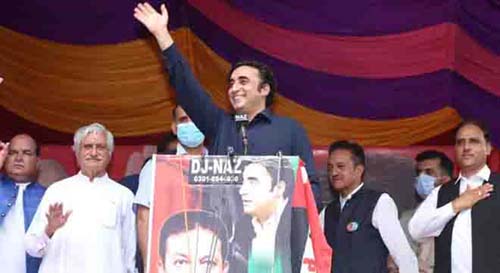 Only PPP can chase govt out: Bilawal Bhutto
Islamabad: Chairman Pakistan People's Party (PPP) Bilawal Bhutto Zardari said this week only the PPP can chase out the government and after winning the Kashmir elections the Jiyalas will proceed towards Banigala.
Addressing a huge public gathering at Abbaspur in connection with the Azad Jammu Kashmir election campaign, he said that some people on television say that the PPP is finished but they can see here in Abbaspur where the people are raising Jeay Bhutto slogan which shows that the PPP was there yesterday; it is in the field today and will remain in the future.
Zulfikar Ali Bhutto and Benazir Bhutto struggled shoulder to shoulder with the Kashmiri people. He said that these elections are very important and the Jiyalas will send a message on both sides of the border that "Kashmir pe Soda, Na Manzoor".
Whatever tyranny is happening in occupied Kashmir cannot be tolerated by the people of Azad Kashmir. We are not the ones who pray for Modi's win nor do we invite Modi to our weddings. The worst tyranny happens in occupied Kashmir and Imran Khan is helpless. We are Jiyalas whose leader had said that if need be we will fight for Kashmir for thousand years and the leader who had said that where the Kashmiri sweats, we will shed our blood. We cannot remain silent over Imran Khan's response, he said.
Bilawal said that Imran Khan had pushed the country into an economic crisis. The real face of Imran Khan's change is historic poverty, price hike and unemployment. "We have greater poverty, price hike and unemployment than India, Bangladesh and even war torn Afghanistan. He had promised one crore jobs and 50 lac houses but he has made millions unemployed and homeless. The PPP has always brought economic prosperity. Zulfikar Ali Bhutto gave lands to landless and Shaheed Mohtarma Benazir provided jobs. She started the Lady Health Workers programme. President Zardari initiated Benazir Income Support Programme. He also increased salaries by 120 percent, pensions by 100 percent and for the soldiers fighting terrorism by 175 percent. On 25th July the Jiyala Prime Minister will be elected and his first measure will be to increase salaries and pensions," he added.
The Chairman PPP said that the PPP confronted the Prime Minister, Imran Khan for the last three years on every front. From the first day we exposed him and called him by his real name "Selected" and he himself thumped the desk. After that the PM never came to the parliament to hear my speech because he was afraid that he will again thump the desk.
"We also forgot the bitterness of the past and made an alliance with our political opponents against the PM. We went to prison to meet them but we should have listened to you people because they did not want to dislodge Imran Khan or Buzdar. They used to say "Aar Paar" but now are ready to plead them to get into government. We will chase out Imran and Buzdar with the Jiyalas despite the anti-democratic forces siding with them," he said.
They wanted to leave the space for Imran Khan but we convinced them to participate in bye-elections and we defeated the PM from KP to Pishin and from Karachi to Punjab. We defeated Imran Khan to sixth position in Karachi but our friends in opposition started fighting with us. We will not give an inch of space to Imran Khan. We defeated Imran Khan in his own constituency in national assembly and wanted to give him tough time in the budget session but our friends in opposition were absent. He hoped that Shahbaz Sharif and Moulana Fazlur Rehman will issue show cause notices to their absent members.
Bilawal said that he trusts women wing, PSF and the Kashmir party organisation that the future will be yours if you work hard. The people will support those who confronted Imran Khan and will not support those who left the people on the mercy of Imran's economic policies.
They should come to our stance and only the PPP can chase out Imran Khan and stop any compromise on Kashmir. Imran is lying by saying that he will not provide air bases to the United States because this decision of not providing air bases was taken by the parliament during the PPP government. He said that no one respect Imran Khan and no one even telephones him.