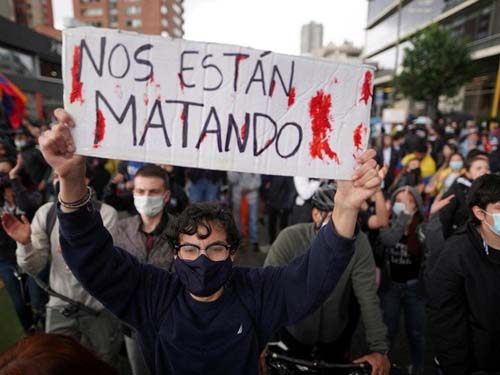 Deadly combination of virus and violence racks Latin America
Dr Theodore Karasik
While eyes may be focused elsewhere in our social media world, Latin America is not being spared continuing coronavirus disease (COVID-19) dilemmas amid rising infections and deaths during its third wave of the pathogen. The number of confirmed deaths from COVID-19 in Colombia has now passed 80,000, with intensive care units in the country's largest cities almost full. Meanwhile, ongoing large, violent protests against a weak government are wracking the country. The third wave is now peaking and the risk that protests may be super-spreader events is rising as the country desperately tries to distribute and administer vaccine doses.
Daily political protests over social injustices are contributing to the toxic situation in Colombia. President Ivan Duque last month announced a tax reform plan, but it turned out to be intensely unpopular because it proposed increasing the number of people, including lower and middle-income workers, who pay income tax, while eliminating some benefits, adding sales tax on to many basic staples, and ending exemptions from value-added tax.
Protesters in some cities, predominantly Cali, are blocking roads, thereby creating a chain reaction in terms of shortages of food and fuel in urban areas, and even worse in rural areas. Colombia's political scene is at fault, similar to other countries in Latin America. The authorities are warning that demonstrations, which are now expanding to tackle country-wide issues such as inequality and police brutality, are prolonging the country's third wave because of the interruption to services in some locations. Avoiding the violence on top of the pathogen is a daily struggle for many Colombians. Almost 50 people have died in the protests, with about 1,400 injured.
The Colombian health system is now failing because of the combination of events. The hospital system in Bogota is on the brink of collapse, weeks after hospitals in other major cities like Medellin and Cali were reportedly unable to treat any more patients. The more sparsely populated provinces are also reporting a saturation of their capacity to provide intensive care to those suffering the most serious effects of the coronavirus. Research shows that these underdeveloped regions have historically had healthcare systems that cannot be compared with the relatively advanced facilities in Colombia's largest cities.
Indigenous Afro-Colombian groups from rural areas have joined the demonstrations due to this lack of healthcare and ongoing violence. They are venting their anger against a government they believe is not doing enough to protect them from rebel groups and former rebels who have turned to organized crime. The lack of state penetration is a contributing factor, as is violence between Colombia and Venezuela. The situation on the border, where eight Venezuelan soldiers were killed in clashes with "irregular Colombian armed groups" last month, is increasingly tense and is drawing in outside actors including Russia.
Colombia's vaccination program is in its nascent stages. Since mid-February, Health Minister Fernando Ruiz's national vaccination plan has provided doses to about 8 percent of the 35 million people it targeted. The unprecedented mass vaccination drive has gradually been picking up speed after initial distribution issues, which were followed by foreign pharmaceutical companies' failures to deliver vaccines as promised.
The situation is now rectified, with Colombia the first country in Latin America to receive COVID-19 vaccines through the Covax facility. That delivery was part of the "First Wave" initiative — a global pilot program in which some countries receive early delivery of a limited number of doses of the Pfizer/BioNTech vaccine as part of their total allotted quota. More doses of the Pfizer/BioNTech and AstraZeneca/Oxford vaccines are expected to arrive over time. The vaccines' arrival means that more health workers in high-risk populations can be vaccinated.
The coronavirus is exacerbating not only Colombia's dire situation, but also those of other countries in the region.
Colombia's neighbors are also not exempt from the pathogen or the violence. The risk is that unrest will spread across Latin America. In 2019, before the pandemic began, public anger rattled governments in countries such as Bolivia, Chile, Ecuador and Haiti. The coronavirus is exacerbating not only Colombia's dire situation, but also those of other countries in the region. The economic stagnation that is driving much of that discontent is not being addressed and thus the problems for these societies will likely get worse before they get better. Any country coming out of the COVID-19 emergency needs to focus attention on the Southern Hemisphere. Many are already doing so, but the efforts so far are not robust enough. For Colombia, continuing disease spread and violence is doing nothing to help save lives.
Overall, the Colombian government can't afford to meet most of the protesters' demands while also trying to contain and reverse the virus spread. Lowering the death toll is key, but getting all sides to cooperate should also be a priority. A deadly pattern is emerging, not only in Colombia but also in other Southern Hemisphere countries. The Covax system needs to up its efforts, while nongovernmental organizations need to quickly implement locally-driven conflict resolution mechanisms.
The writer is a senior adviser to Gulf State Analytics in Washington.