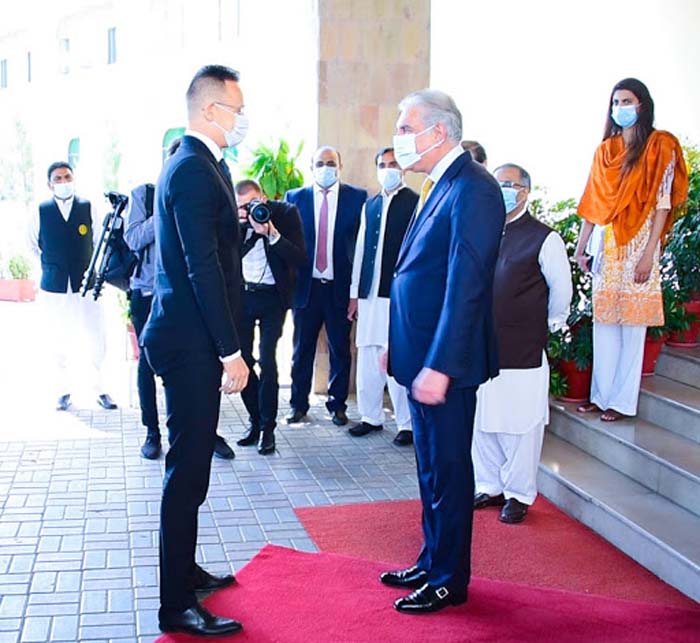 FM Qureshi invites Hungarian investment in CPEC projects
Newswire
Islamabad: Foreign Minister Shah Mehmood Qureshi this week invited Hungary to invest in the China-Pakistan Economic Corridor (CPEC) as he held talks with Hungarian counterpart Foreign Minister Peter Szijjarto here.
During the talks with Peter Szijjarto, FM Qureshi said the under-construction nine Special Economic Zones (SEZs) under CPEC offered ample investment opportunities, said a foreign ministry statement. Peter Szijjarto is also his country's minister for trade.
Referring to the investment friendly policies of the government and the country's economic performance, Foreign Minister Qureshi said Pakistan had further liberalized the investment policy for the benefit of investors.
"Nine special economic zones are in different stages of development under the CPEC and are open for investments including for the Hungarian companies. Pakistan has introduced a liberalized visa regime and e visa policy to facilitate the travel of businessmen," he said.
The Foreign Minister said economic diplomacy was a major component of Pakistan's foreign policy. He said Pakistan was crafting new avenues of partnership with the rest of the world.
He said Pakistan, with a population of 220 million, was an emerging market that offers enormous investment opportunities.
The two FMs held wide-ranging talks. The talks covered bilateral relations and exchange of views on regional and international issues, said the official statement.
Foreign Minister Szijjarto is visiting Pakistan accompanied by a high-level official delegation as well as 17 businessmen.
The two Foreign Ministers held one-on-one meeting, which was followed by delegation-level talks. The Foreign Ministers reviewed the entire gamut of bilateral relations and explored ways to deepen existing cooperation across diverse areas such as trade, economic, agriculture research, food industry, aviation, energy, water resource management, science & technology, and higher education. It was agreed to work together to forge a strong bilateral economic partnership.
Earlier, the two Foreign Ministers jointly addressed the Pakistan-Hungary Economic Diplomacy event and encouraged business community of both countries to enhance mutual collaboration.
Foreign Minister Qureshi highlighted Pakistan's economic security paradigm and underlined the shifting focus from geo-politics to geo-economics. He invited Hungarian companies to take advantage of the business friendly environment in Pakistan.
The two Foreign Ministers witnessed signing of business agreements between Pakistani and Hungarian companies in the fields of dairy, pharmaceuticals and cyber security.
The Hungarian government has announced an exclusive credit-line of $ 84 million for Hungarian companies to do business with Pakistan. A Loan facility of $ 50 million for projects in fisheries and food processing was announced by the Hungarian government. The two sides will also work towards establishing direct air links.
A Memorandum of Understanding (MoU) on Cooperation within the Framework of the Stipendium Hungaricum Program 2020-22 was signed between the two sides, under which the Hungarian Government will provide 200 scholarships annually to Pakistani students to study in Hungary.
The businessmen from both sides also signed a number of MOUs for cooperation in different fields.