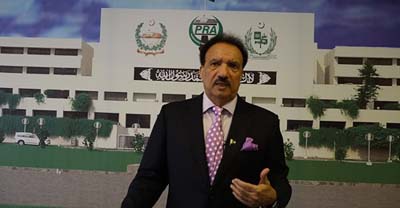 Senator Rehman Malik says goodbye to Senate
Newswire
Islamabad: Senator Rehman Malik said goodbye to the Senate after a long service taking home cherished memories.
In his farewell speech outside Parliament House, Senator A. Rehman Malik said that today he was here to say goodbye to the Senate where he spent more than a decade.
He said, "today I am remembering and paying tribute to those fellows Senators who died and left us in the mid of the journey and pray may their souls rest in peace".
He said that he will always remember the Senate House as a child remembers his high school classroom adding during his service as Senator he has found many good friends and foes and also many so-called friends under the guise of friendship from whom he has learned life lessons. He said if anyone (Senator) praises the soldiers fighting on the frontlines protecting motherland, he is ridiculed for being a servant of the Establishment and he knows many senators whose parties served explanation letters for praising the Pak Army. He said that he was criticized by many for his article titled "Continuity of COAS is in the national interest".
Senator A. Rehman Malik said that we come to this House with slogans to serve the country and the people of Pakistan but we become selfish here and forget about our people and work for vested interests. He added that before independence, we were subjugated to British Rule and today we are subjugated to our desires resultantly Pakistan couldn't progress the way it should have. He said that he witnessed a violation of democratic values in the house seemed as if we are only wearing the grand English hat of democracy, giving a cosmetic look to be democratic but in reality we are not.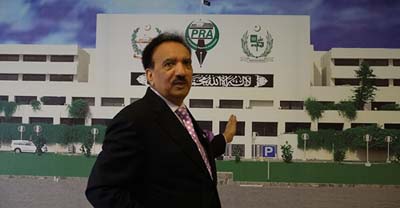 He said, "I have seen horse-trading and vote trading here". He said that the word Zameer "conscience" sounds like a man with the name of Zameer in the Senate rather than conscience. He said that he would not like to talk about the role of party heads however he will elaborate many experiences in one of the books soon. He said that if Parliament House did not play its due and democratic role, the confidence of the common man will be tarnished.
The Senator highly appreciated his team and staff adding that the Senate Standing Committee on Interior which he headed for three years emerged as one of the successful committees which was highly appreciated by the House regarding its performance and role in legislation and other national important issues. He said that he never compromised but always listened to the voice of his conscience and always worked in the best national interest and never accepted dictations.
The former Interior Minister said that he had given many predictions on the floor of the house which were ridiculed by many that time but later each of them proved right. He added that years back he was criticized when he told about the presence of Daesh / ISIS in Pakistan but today everyone knows that Daesh has emerged as the deadliest terrorist organization and is more dangerous than al-Qaeda.
Regarding the role of the Senate, Senator Rehman Malik said that this august house is always undermined and he feels the role of this Upper House in our Parliamentary System is merely ceremonial as it is lacking powers and a vital role in all affairs including legislation. He questioned if an MNA can be Prime Minister then why Senator can't be elected as the Prime Minister of the country.
He said that National Assembly bills are passed by the Senate, but Senate bills are often blocked in a joint session. He said that though Senate is a symbol of the federation but it has failed to provide any relief to any province. He said that many issues were raised that provinces are not being given a share of their resources as Khyber Pakhtunkhwa is not getting electricity and Balochistan is deprived of the gas but no solution so far brought to any problem. He said that he introduced many laws, some were implemented but many were just discussed.
Senator A. Rehman Malik paid rich tribute to his leader Benazir Bhutto and said that he has learned a lot from her and she had brought her into politics. He said that he will always work for her legacy and will highlight her name everywhere and at every forum.
He said, "I will always work and defend the ideology and legacy of Benazir Bhutto". He said that he is grateful to his party- PPP, his leadership former President Asif Ali Zardari, and Chairman Bilawal Bhutto Zardari for the trust and confidence posed on him. He said that he would like to advise the new Senators to work for the rule of law, progress, and prosperity of Pakistan and the relief to the common man.
Senator A. Rehman Malik thanked the media for always being at his side in highlighting the issues of the common man and matter of national interest particularly the cause of Kashmir.