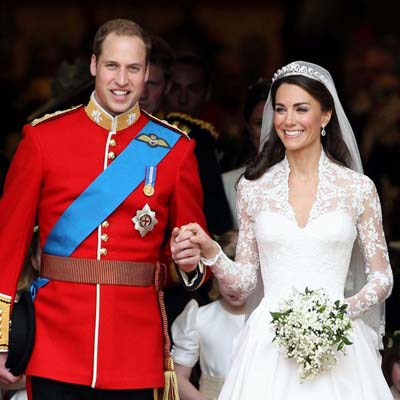 Who designed Kate Middleton's wedding dress?
Georgia Farquharson
We can barely believe it's been nearly ten whole years since Kate Middleton stunned in an Alexander McQueen by Sarah Burton wedding dress to tie the knot with Prince William at Westminster Abbey on a sunny day in April 2011.
In a world dominated by covid-19, it feels wonderful to reflect back on such a joyful day when the royal wedding – watched by 2 billion people and commemorated with a bank holiday (like the one the Queen has planned for 2022) – was all anyone could talk about for weeks.
Be it who designed Kate Middleton's wedding dress, or what her sister, Pippa Middleton, wore and why it attracted so much attention, the world couldn't get enough of this royal wedding.
And, as the couple – who have since welcomed three children into the world – prepare to celebrate their ten-year wedding anniversary, we're looking back at some of the key details from the Duke and Duchess of Cambridge's big day…
The Duchess of Cambridge is a fan of many British designers – including Jenny Packham and L.K Bennett. But for her wedding dress, Kate opted for a gown designed by Sarah Burton – creative director of luxury fashion house Alexander McQueen.
"Miss Middleton worked closely with Sarah Burton in formulating the design of her dress," according to the Palace. And the dressmaker has since revealed how Kate's wedding gown reflected her personality.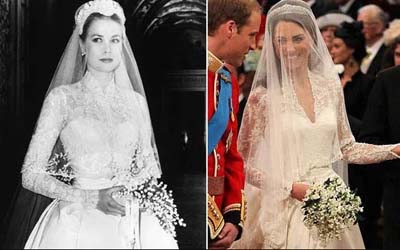 Naturally, the details behind Kate's wedding dress, including who designed it, were kept secret for months – despite a number of attempted leaks. And the grand reveal on April 29th 2011 was well worth the wait.
On why Kate made the decisions she made, a statement from the Palace said, "Miss Middleton chose British brand Alexander McQueen for the beauty of its craftsmanship and its respect for traditional workmanship and the technical construction of clothing.
"Miss Middleton wished for her dress to combine tradition and modernity with the artistic vision that characterizes Alexander McQueen's work."
On what Kate wanted her dress to reflect, "The dress epitomises timeless British craftsmanship by drawing together talented and skilled workmanship from across the United Kingdom.
"The dress design pays tribute to the Arts and Crafts tradition, which advocated truth to materials and traditional craftsmanship using simple forms and often Romantic styles of decoration. Ms Burton's design draws on this heritage, additionally giving the cut and the intricate embellishment a distinctive, contemporary and feminine character."
Not only was Kate's dress utterly stunning, but it attracted attention for all the right reasons. The train was nearly nine-feet-long, which lent itself to a dramatic entrance into Westminster Abbey.
With Kate's sister, Pippa Middleton – who also wore an Alexander McQueen gown for the occasion and is thought to be expecting her second baby – in charge of holding the 70cm train for Kate's arrival.
The dress was Victorian inspired with its corset-style bodice and all the lace work was done by hand by the Royal School of Needlework.
According to Good Housekeeping, Kate's "something blue" was a blue ribbon sewn into the inside of her dress and her "something borrowed" was the Queen's Cartier Halo tiara she wore for the special day.
In a similar fashion, the Queen lent Princess Beatrice a dress for her secret Windsor wedding last year.
Kate Middleton's Alexander McQueen wedding dress is thought to have cost £250,000. It is widely reported that it was Kate's parents, Carole and Mike Middleton, that footed the bill and paid for Kate's gorgeous gown.