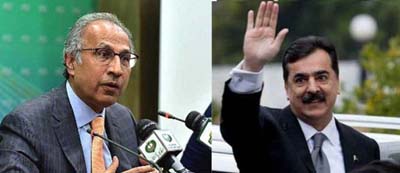 Senate polls: Gilani upsets Sheikh
Islamabad: In a huge upset in the Senate election former Prime Minister Yousaf Raza Gilani defeated government's nominee Finance Minister Hafeez Sheikh in the race for the Islamabad seat this week.
The National Assembly in which the ruling Pakistan Tehrik-e-Insaf (PTI) and its allied parties have majority was the electoral college for the Islamabad seat.
Gilani, fielded by the opposition alliance Pakistan Democratic Movement (PDM) secured 169 votes while Sheikh could manage 164 ballots. Seven votes were declared invalid and were rejected by the Election Commission of Pakistan (ECP).
Former president Asif Ali Zardari had taken upon his shoulders to get Gilani through. He had personally lobbied hard for his win.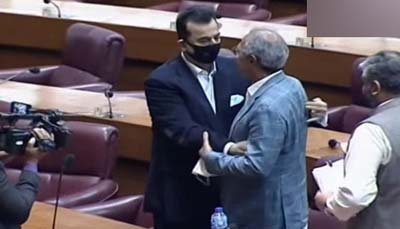 Interestingly, PTI's candidate Fauzia Arshad for sole woman's seat won routing opposition representative Farzana. The winner got 174 votes while the loser bagged 161 ballots. This showed that the opposition had prepared to defeat Sheikh only and not the PTI's female contestant.
A total of 340 votes were polls. One seat is vacant while the Jamaat-e-Islami's one MP boycotted as per the decision of his party.
Fauzia Arshad is a well-known worker of the PTI in Islamabad and Rawalpindi. She got the ruling party's votes, which, however, were refused to Sheikh.
Quickly after the announcement of Gilani's victory, the PDM leaders burst into celebrations. The government said it would challenge the outcome. Its leaders said the government would seek disqualification of Gilani.
The ballot paper of Kashmir Committee Chairman Shehryar Afridi went waste as he put his signatures on instead of ticking the name of party's candidate, Dr Hafeez Sheikh, from Islamabad.
After realising that his ballot has been rendered invalid and would not be counted in Sheikh's tally, he applied to the Election Commission of Pakistan (ECP) for issuance of a new ballot paper.
He later met Prime Minister Imran Khan and explained that he inadvertently put his signatures on the paper. However, Imran Khan told him that he should have been very careful.
Afridi said the Prime Minister directed him to seek a new ballot from the ECP. He also said that the Prime Minister told him that he has full confidence in him.
The ECP said that application for a new ballot paper could be given only before it was put in the ballot box.
The ballot paper of PPP supremo Asif Ali Zardari also became invalid, but he had not put it in the ballot box. He applied for issuance of a new paper that the ECP accepted. Because of his illness, Zardari had given a wrong preference in the ballot paper.
Members of the Senate are elected for six-year terms and as half the Senators are due to retire after three years, elections are required to replace 52 Senators who had completed their terms.
However, voting this week was held only for 37 seats as other candidates had been elected unopposed.
Members of the provincial assemblies and the National Assembly are elected in nationwide parliamentary elections, which last time took place in 2018, bringing Imran Khan's party to power.