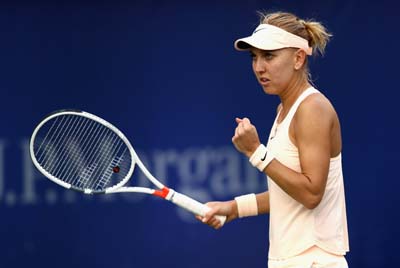 Elena Vesnina celebrates first victory since motherhood in Doha
David Kane
Reigning Olympic doubles champion Elena Vesnina enjoyed a triumphant return from maternity leave at the Qatar Total Open, partnering Laura Siegemund to survive formidable foes Victoria Azarenka and Elina Svitolina, 4-6, 7-5 [10-8], to win her first match since 2018.
"I was really enjoying myself on the court today, every second of it, even when we were down a set and a break," she explained in a voice memo after the match. "My partner was tired because she'd had gone through qualies and had a tough singles match earlier today. I was telling her, 'I've been in this situation many, many times, so don't worry. It's ok, relax, and be positive. She was like, 'You're always smiling!' I told her, 'We shouldn't cry, because it's a great day. We're playing against great champions, so just enjoy yourself.'
"I've missed the adrenaline, and it was even better that we could finish with a win."
Vesnina announced her intent to make a full comeback at the end of 2020 and aimed to give daughter Elizaveta a look at life as a professional athlete.
"After the match, I saw Liza. She was waiting for me, but when I went to hug her, she saw a few of the cats that you often see running around the site. So, she started chasing them around, and I said, 'You know that mama won, right?' She said, 'I know that, but look, there is a cat, and she's hiding from me!' At that age, this is more important, I suppose!"
The 34-year-old left the tour quite literally at the top of the game, having finally ascended to world No. 1 alongside countrywoman Ekaterina Makarova, and is an Australian Open away from a Career Grand Slam in women's doubles.
She and Makarova achieved their personal pinnacle in 2016, when they stood atop the medal podium in Rio de Janeiro, making her decision to return in another Olympic year all the more auspicious.
"The Olympic Games was always a big deal in Russia," she said back in January. "When I was growing up, I watched all kinds of sports, but especially the Winter Olympic sports, oddly enough! I don't know why, but I watched so much of the ice hockey, the figure skating, skiing. I was a huge fan. What I remember most was, of course, the Opening Ceremonies, when they would light the torch, and all of the athletes would match with their flags. Since I was a child, it was always my dream to have an Olympic gold medal—nothing else, only gold!
"When I was on tour, we had Grand Slams and many other tournaments to prioritize, but the Olympic Games was extra special because it only came once every four years. With the calendar, it's always tough to prepare for that, but it was always on my mind, and I did all I could to be ready. I was lucky to have partners like Ekaterina by my side, because she felt the same way I did."
Winners of the National Bank Open (formerly Rogers Cup) the week before, she and Makarova famously suffered through a comedy of errors just to arrive at the Games. Delayed flights and missed connections forced Vesnina to celebrate her 30th birthday at the Montréal airport.
Nevertheless, they persisted, and clinched Olympic gold without losing a set. "When we played doubles together, we didn't like to talk about medals before the Olympics, but we knew how important it was for us; we could feel it. When we took the courts to play in Rio, there was such chemistry, and we were so focused. We didn't see any uncomfortable things around us. Everyone was talking about how the courts weren't ready or others were complaining about the food, but we didn't care about any of that. We were in such a zone, and we came to the Olympics with such a clear purpose, and that was it. That's why we have this medal."
More adversity may yet await Vesnina as she attempts a fourth Olympic berth; given the global pandemic, the Olympics, already postponed from last year may be permanently canceled. Makarova has retired, and while she would likely have her pick of partners—and may yet reunite with Beijing Games partner Vera Zvonareva—the team would endure a bittersweet reception as neutral athletes, after Russia was formally banned from international competition.
"For many athletes, the Olympics is the only event in their lives. They don't have Grand Slams or Masters. For them to lose their flag and have to compete as neutral athletes, it's a tough loss. At the same time, the most important thing is the opportunity to compete, and to have a chance to win medals. For other athletes, this is their life, and they've been working like crazy to get to an Olympic Games and win that medal. If it happened to any other country, I think people would be much more outraged. It's not fair, and it's really sad, but it's something we have to live with.
"If we're allowed to compete as neutral athletes, that's how we'll go and how we'll compete. We'll play, swim, win medals. Everyone knows which country you're from: your coaches, your family, friends, and fans. It's still understood that you'll be there, competing for your country."
That Olympian mentality was evident on court in Doha, as she and Siegemund rallied from a set and 5-3 down to defeat Azarenka and Svitolina, and recovery will be crucial as the duo face Monica Niculescu and Jelena Ostapenko in the quarterfinals.
"We're really having fun in Doha," she said on Tuesday. "I love this tournament; we get to stay in a beautiful hotel with access to the beach. In the morning, Liza swims in the pool and plays in the sand with the other kids. In the afternoon, there's a kid's playground on site—of course, not to mention the cats! She comes on site and waits for me to finish practice, and runs to hug me. This is the best feeling in the world."
Having seamlessly struck that elusive work-life balance, Vesnina can already declare this week a success as she continues to build towards greater—and perhaps more golden—goals.
"I still feel like I have some gas in the tank, and that I can do it," she declared at the beginning of the year. "When I no longer feel this way, I'll stop immediately, but right now, I feel like I'm ready an