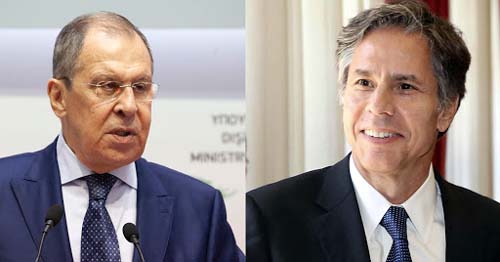 Lavrov, Blinken discuss normalization of Russian-US relations
Moscow: Russian Foreign Minister Sergey Lavrov and US Secretary of State Antony Blinken have discussed the normalization of relations between Moscow and Washington during their phone call this week, along with issues of strategic stability, the fight against the COVID-19 pandemic, Syrian regulation and the Alexey Navalny case, the Russian Foreign Ministry said.
Lavrov congratulated Blinken on his appointment, expressing readiness for constructive dialogue on a wide range of issues.
"As a follow-up to the phone call between Presidents (Vladimir) Putin and (Joe) Biden, they have welcomed the prolongation of New START (Strategic Arms Reduction Treaty) until 2026, which will facilitate improvement of the general situation in the sphere of international security and strategic stability," the Russian Foreign Ministry said.
"They have touched upon the matter of ensuring predictability in the sphere of arms control, considering the US pullout from the INF Treaty and in the context of prospects of the Treaty on Open Skies."
Besides, Lavrov reminded the US Secretary of State of Moscow's earlier proposals to approve joint Russian-US statements on the impermissibility of nuclear war and non-interference in each other's domestic affairs.
The ministry added that Blinken had touched upon the situation with Navalny. "In connection with the situation with Navalny, touched upon by Blinken, the minister gave detailed explanations as to the need to respect legislation and judicial system of the Russian Federation," the Russian Foreign Ministry reported. "[Lavrov] pointed out to the Secretary of State the issues related to the persecution of individuals who were protesting in the US due to presidential election results, and called for ensuring transparency of the corresponding judicial procedures," the statement notes.
Lavrov confirmed that Russia is open for joint work to normalize the entire range of bilateral relations based on mutual trust and balance of interests. They have reaffirmed readiness to mutually address the accumulated difficulties in the functioning of Russian and US diplomatic missions on each country's territory," the ministry said. "Antony Blinken has expressed readiness to organize expert dialogue on these issues."
The Russian Foreign Ministry also noted that the top diplomats "agreed to maintain regular working contacts."
The sides have also expressed their support for cooperation in the sphere of COVID-19 vaccine development. Lavrov and Blinken "have spoken in favor of establishing cooperation in the sphere of combating the coronavirus, including cooperation on vaccine development and improvement," the statement reads.
The Russian Foreign Ministry added that Lavrov and Blinken had discussed a number of international issues, including aiding peaceful regulation in Syria and Libya, as well as the situation in Ukraine.