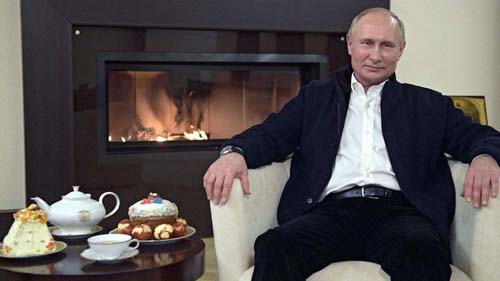 Putin tested by Navalny supporters' show of strength
Cornelia Meyer
When Alexei Navalny returned to Russia this month, the world collectively held its breath: Would he or wouldn't he be arrested on his return to his homeland?
What many feared would happen then took place. On passing passport control, he was arrested, and now faces a Feb. 2 hearing on whether his suspended three-and-a-half-year prison sentence for fraud should be converted to jail time. What ensued we all know: Saturday's countrywide demonstrations.
Navalny was rushed from Russia to Germany last August after having been poisoned with a novichok nerve agent — a deed for which the Kremlin denies all responsibility. But why did he return? And why did his arrest provoke such fervent protests?
The answer to the first question is simple: Navalny is a Russian politician with political ambitions in Russia, which means that, if he wanted a political future, he needed to return rather than stay in exile. But his return was still courageous, given that most opposition leaders in Russia face imprisonment or even death, such as Boris Nemtsov, who was killed within a stone's throw of the Kremlin in 2015.
The second question deserves a closer look. Navalny's anti-corruption campaign resonated with many throughout the country.
He was intelligent in not targeting President Vladimir Putin himself, but rather many of his allies lower down the totem pole, because this is where the everyday voter throughout the country is being hurt. True, upon Navalny's arrest, his organization released the video of Putin's alleged palace on the Black Sea, of which the president denies ownership. For many Russians, it would not be surprising if the president, the head of the communist party or the czar lived in splendor — that is part of the country's history. Where the everyman objects is when local authorities or the lower echelons of the leadership structure engage in such practices. Uncovering those levels of corruption were precisely where Navalny's organization hit.
Navalny has been around for a long time. In 2013, he was even permitted to run for mayor of Moscow. After he was sentenced to five and a half years in prison on fraud charges in the same year, the sentence was overturned by a superior court in the face of 7,000 demonstrators outside of the Kremlin. That was then and now is now. Since 2013, Navalny has mounted a credible opposition to Putin and his base has grown and grown.
Last year's local elections proved that Navalny's "smart voting" strategy could be successful, as his supporters won deputy mayoral positions in two cities.
Saturday's demonstrations were the largest since 2018, when people took to the streets to demonstrate against corruption and a planned hike of the retirement age. What sets the weekend's demonstrations apart is that they brought people out on to the streets in more cities across the country.
Russia will this year elect representatives to the Duma (parliament), which increases the focus on Saturday's demonstrations, as well as those planned for Jan. 31. On Saturday, 35,000 people took to Moscow's streets. They were joined by many more across the country. More than 3,500 were detained, including key players in Navalny's organization.
These demonstrations constituted a different manifestation of Russian opposition in many ways, as the protesters dared to break through police cordons. Several observers noted that as many as 44 percent of the demonstrators took to the streets for the first time. Youth and female participation was also strong. All of this reminds us of what happened in Belarus and Kyrgyzstan last year.
What unfolded in Russia on Saturday was not just a test for Putin's hold on power. It also tested the efficacy of Navalny's organization and how Western countries would react.
EU foreign ministers on Monday condemned Navalny's arrest and the government's use of force during the demonstrations. The bloc's High Representative for Foreign Affairs and Security Policy Josep Borrell will meet with Russian Foreign Minister Sergey Lavrov on Feb. 5 to discuss Navalny's arrest and the demonstrations. In the meantime, the EU is contemplating new, more targeted sanctions against high-profile representatives of the Russian regime. However, it took the bloc two months to react after Navalny was poisoned. Given the current healthcare and economic challenges in Europe, one should probably not expect too much.
Navalny has mounted a credible opposition to Putin and his base has grown and grown.
At the same time, the overall geopolitical situation has changed with the inauguration of the new US Biden administration, which will put more emphasis on democracy and human rights than Donald Trump did. It is also wary of a massive cyberattack on key government agencies, as well as the accusation of Russia's meddling in the 2020 presidential election. Joe Biden firmly raised all of these issues in his first telephone conversation with Putin on Tuesday.
In other words, the Western world has become more overtly critical of Putin, while neighboring countries like Belarus also face more opposition.
In the context of the upcoming parliamentary elections in Russia, it is well worth keeping a close eye on how Navalny and his movement fares and how Putin responds. Russia matters to the world: It is a premier supplier of energy, a near neighbor to Europe and China, and the owner of the world's second-largest arsenal of nuclear weapons.
Cornelia Meyer is a Ph.D.-level economist with 30 years of experience in investment banking and industry. She is chairperson and CEO of business consultancy Meyer Resources.