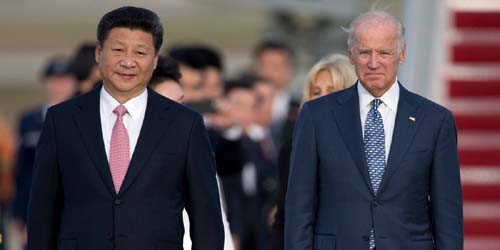 Experts anticipate positive changes on China-US academic ties as Biden takes office
Song Jingyi
The geopolitical, trade and technology frictions between the United States and China will continue to have an impact on higher education cooperation between academics and universities in the two countries under US President-elect Joe Biden, education experts say, although they see a likely change of tone under Biden which could ease some current tensions which are affecting student flows from China.
"After 40 years of [US-China higher education] cooperation, the main challenge is going to be how universities operate in this new context, said Yu Lizhong, chancellor of NYU Shanghai, speaking during an education online seminar on "New Administration: What's the next step for Sino-US education cooperation" on Jan 16.
"We are likely to see that the [China-US] problems are still going to be there, but the way to address them is going to change in a more positive sense, on both the Chinese side and the US," Yu said.
Yu's views were supported by other scholars at the conference including Jia Qingguo, professor and dean at Peking University's School of International Studies.
"The pandemic and disequilibrium will unfortunately continue; there will be no breakthroughs in the near future".
But he was more hopeful that "China and the United States can come to an understanding of how to continue to be strategic rivals or continue to cooperate first in areas that are essential to human progress, universities and university research in cooperation".
"We are likely to see once again a more engaged dialogue between the two countries, with Biden pursuing a more internationalist approach," said Jia.
Daniel B. Wright, founder, president and CEO of GreenPoint Group, a US-China strategic advisory firm with offices in Washington and Beijing, pointed to a difference of approach and of rhetoric under a Biden administration and expected a "significant liberalization in visas", referring to US restrictions on visas for Chinese students, researchers and academics in the past two years.
Stephen T. Golding, the vice-president for finance and administration at Ohio University and treasurer of Ohio University, referred to President Trump's "America First" agenda, saying Biden would reverse much of what you have seen toward this highly defensive posture internationally and not the least towards China.
He mentioned that US universities have become among the very best in the world because they seek the best talents from every part of the world, including and especially in recent years from China.
"Anything that diminishes that flow of talents and that interchange…will diminish the quality of our universities and of our [US] competitiveness."
He was proud of what Ohio University and other institutions had done to "not cower in the face of heavy political winds in this country but to pursue a broadly internationalist agenda".
However, some experts also pointed out that this certainly would not solve "all questions of tensions between the US and China".
This left it imperative that universities and institutions continued to "do sometimes what governments cannot do: to deepen our cooperation", Xue Lan, dean of Schwarzman College at Tsinghua University, added.
Xue said that beyond the negative effects of the string of unfriendly policies and the public health crisis, many new windows and elements in the education sector have been opened and explored, with opportunities for international learning and innovations being made.
"But overall, there is a consensus on US-China education higher education relationship. We need more public attention and more efforts from society to boost international understanding among students."