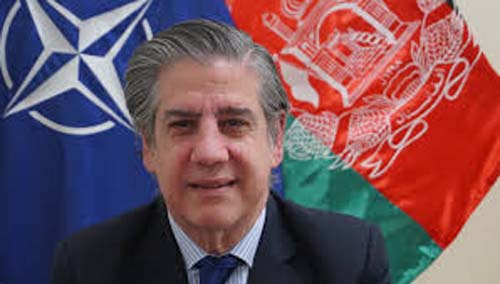 Ambassador Stefano Pontecorvo eyes peace
Newswire
Kabul: The Senior Civilian Representative of NATO Ambassador Stefano Pontecorvo reaffirmed the alliance's support to Afghanistan and the Afghan National Defense and Security Forces following the conclusion of a peace agreement.
Ambassador Pontecorvo said "Certainly yes, that is certainly our intention. After the peace deal we'll have to negotiate whatever we do with the new Afghan government which comes out of the peace deal so these are not unilateral decisions on the side of NATO, it will be the Afghan government which will ask us for what they need and we will apply to measure of our capacities and we are committed."
Reiterating the alliance's commitment to Afghanistan until 2024, Ambassador Pontecorvo said the alliance is firm to provide political and financial support to Afghanistan until 2024.
Ambassador Pontecorvo further added that the international community including NATO look forward to the outcome of the peace deal.
Furthermore, he emphasized that the Taliban group should respect the gains of the Afghan society including achievements in various sectors including human rights, women's rights, ethnic rights, education, health and media freedom of media.
In regards to alliance's support to Afghan National Defene and Security Forces, Ambassador Pontecorvo said NATO is committed to support the Afghan forces without any 'doubt'.