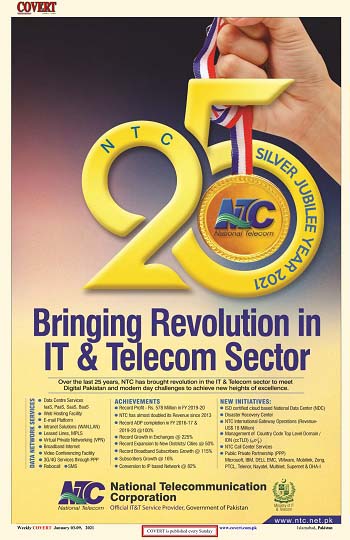 Celebrating 25 years of Consistent Growth & Customer Satisfaction
NTC – A Rare Story of Resilience, Growth and Foresightedness
When the Government decided to de-regulate Telecommunication sector, as a first step, converted T&T department into corporation and created PTC in 1991 through an Act of Parliament. As a second step, PTC was split into five entities such as PTCL, NTC, PTA, FAB and PTET through the Pakistan Telecom Re-Org Act 1996.
NTC is a body corporate created under Pakistan Telecommunication Re-Organization Act 1996 on January 1, 1996 with a definite mandate for provision of telecommunication services within Pakistan on a non- exclusive basis to "the Armed Forces, Defense Projects, Federal Government, Provincial Governments or such other Governmental Agencies or Governmental Institutions as the Federal Government may determine". NTC was given the mandate to provide Telecommunication Services to Government/ Defence communication while PTCL was mandated to provide Telecom services to the private sector.
Creation of NTC was a challenging task not only for the Government of Pakistan but also for NTC itself. The challenges involved bifurcation of government numbers and the associated exchanges from existing infrastructure of the-then Pakistan Telecommunication Corporation. Moreover, development of NTC's own infrastructure to meet its objectives was also a challenge ahead. NTC through efforts of its dedicated manpower, met all the challenges successfully and today it is recognized as an independent telecom operator with necessary infrastructure in place and looking forward to further add value to its facilities for delivery of state of the art services to its subscribers.
NTC is continuously expanding its network through its own resources including Switching, Transmission and access networks with fiber and copper cables. The Switching Network was initially had 05 exchanges with installed capacity of 45,506 lines during 1996-2001 which was enhanced to 72000 lines at 45 sites/ cities by 2004-05. However, during the last 5-6 years massive development took place and the capacity has been increased to 254000 at 99 different districts/cities which included upgradation/migration of existing TDM network to state of the art IP based Next Generation Network. During the first decade of its inception NTC undertaken highly important and strategic projects including securing allocated space slot to Pakistan by ITU with procuring and positioning PAKSAT-I. Another important project in 2002-03 planned, designed and implemented by NTC related to EDUCATIONAL INTRANET (now PERN) wherein all universities/ degree awarding institutes were connected through a single digital platform. NTC established its own optical fiber based SDH system for provision of Digital Transmission backbone for NTC own telephone exchanges and Data Network Platform. This Backbone was upgraded to DWDM with 20 Gbps in 2012 which has now been planned to be upgraded to 400 Gbps.
With the passage of time NTC completed deployment of FTTC and GPON and upgraded its IP core network with Next Generation Routers. Beside Core Networks, establishment of Optical Fiber Junction network of STM-1/4/16 was also given priority in parallel, capacity at major cities i.e. Karachi, Lahore, Islamabad and Peshawar upgraded and expanded with a total length of 650 Km Optical fiber cable laid in junction network.
In 2008-09, NTC installed Video conferencing setup for Presidency, PM offices, Foreign offices, Finance Ministry, Planning Commission, MoITT and all provincial Governors, Chief Ministers and Chief Secretaries. The facility has enabled VIPs to hold meetings/ conference locally and internationally without requiring them to attend physically.
After issuance of Telecom Policy 2015 National Telecommunication Corporation (NTC) initiated public private partnership (PPP) and signed agreements with Microsoft Corporation, VMware and local international companies for facilitating Government and Public sector with a single window for all Telecom/ICT services including software licenses to save public sector money/resources.
Another strategic initiative of the Ministry of IT & Telecom was establishment of a platform for Country Code Top Level Domain in local language. NTC successfully acquired and got allocation of ccTLD for پاكستان . from IANA/ICANN. NTC is now managing, registering and administrating domain name for Urdu and local languages.
It is worth to mention that there was a dire need of Data Center/IT Infrastructure to help the Federal Government and governmental organizations/institutions in implementation of e-government. NTC took the initiative of establishment of a Tier-III Cloud based National Data Center (NDC) and successfully completed it in 2016 through own resources which is operational now and meeting all the requirement of DIGITAL PAKISTAN in a highly secure manner.
This Cloud based Tier III (TIA-942) is ISO 27001 certified National Data Center (NDC) at Islamabad meeting webhosting, emails services and portals and mobile applications. In order to further strengthen the security and availability of Government data, NTC has also deployed Disaster Recovery (DR) of NDC at Lahore.
Highly important applications like Invest Pakistan, services to Immigration, PM Delivery Unit (PMDU), Pakistan Citizen's Portal, KamyabJawan, HunarmandJawan, e-Filling system and around 400 Government websites with allied email services are hosted in NDC. Besides NTC has also deployed state of the art Video Conferencing Cloud based system for providing Video Conferencing facilities to Government departments including the PM Office, Cabinet Division, ECC, CDWP, NCC, Ministries and Civil Administration.
This NDC is also playing an important role in the current COVID-19 Pandemic with hosting of various applications of the Federal Government, Local Government like BISP EHSAS & Rashaan program portal, Tele-Education Web portal, MoHR & MoFEPT programs, COVID websites and specifically NCOC activities. NTC also helped NAVTTC and S-TEVTA programs in a secure manner during the Pandemic.
At its SILVER JUBILEE the Corporation feels proud to have established a state of the art Telecom system and kept itself abreast with the emerging ICT technological evolution facing critical challenges in terms of resources and tough situations through prudent decisions of the NTC management and highly dedicated team of professionals. Today NTC is recognized as an efficient and forward looking organization meeting all Telecom/ICT requirements of the Public Sector through its own resources and make it a success story of the Public Sector.