Moulin sisters usher in high expectations for women's tennis
Cathy Kushner
On National Signing Day last month, JMU's women's tennis program signed four-star recruit Hope Moulin. Hope — who's ranked No. 1 in her division in Florida — is the sister of Kylie Moulin, a redshirt sophomore on the team.
"[JMU] has a great tennis team," Hope said. "I love all the girls on the team, and it's just a bonus that my sister's on the team as well."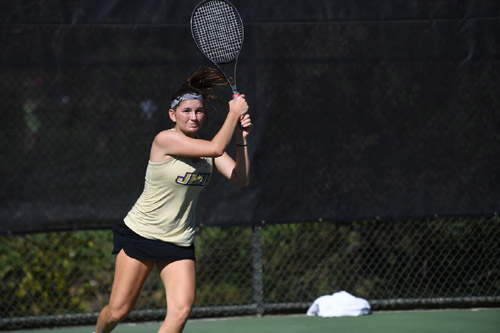 Hope said she knew she wanted to leave Florida and go to school somewhere farther north where she could experience different seasons. The fact that her sister attends JMU helped Hope learn more about the school than just the tennis program.
"I could get more of an honest opinion from her," Hope said. "It was definitely a benefit."
Kylie transferred to JMU in 2019 after two years at the University of Alabama, where she redshirted after a season-ending injury. It was at Alabama where she met head coach Shelley Jaudon, who was an assistant coach her freshman year before becoming JMU's head coach.
"I loved having her as my coach so much," Kylie said. "We had a great relationship my freshman year, and then coming here it just made it even better."
Jaudon met Hope while working with Kylie at Alabama. Jaudon said she knew she wanted to recruit Hope, but that the process wasn't an easy task to complete.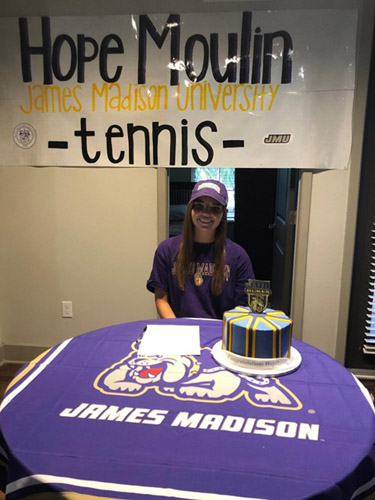 "We didn't have any scholarships for her class," Jaudon said. "With [COVID-19] and how it worked out with the girls getting an extra year, some taking it and some not, it ended up opening up a scholarship for next fall."
This is the first time Jaudon has a set of sisters on her roster. However, she recognizes that although they're sisters, they're not twins, and each will bring something different to the team dynamic.
"In terms of being teammates and how I see them as their coach, they're two very different people," Jaudon said. "They have two very different personalities."