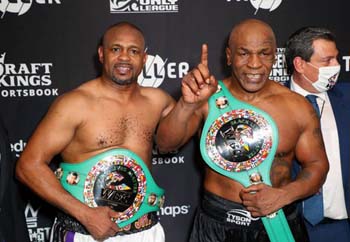 Mike Tyson strongly disagrees with Floyd Mayweather on belts in boxing debate
Mike Tyson has totally opposed Floyd Mayweather's view on there being too many belts in boxing.
Mayweather went on a tirade about the number of belts in the sport in October, saying: "There's too many champions in the sport of boxing right now… This s**t, this doesn't look good."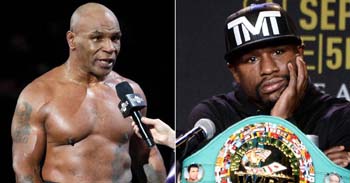 However when asked about Floyd's comments following his eight-round exhibition fight with Roy Jones Jr (officially declared a draw), Tyson had the exact opposite view.
"Boxing never has too many belts because every time it's a championship fight, that's more money for the fighter," said Tyson, wagging his finger.
"So there's never enough belts, you know? Just say there's one champion and you got 10 guys [divisional rivals], how long will it take him to go through these 10 guys? Plus they gotta go through each other…
"It's good to have three champions because, every time there's a fight, then everybody can get paid… Everybody makes money. That's what this business is about. Money."
Tyson and Mayweather are disputing the exact point that has long preoccupied boxing fans. Tyson's logic is that boxers with world title belts can be promoted as champions to make more money, increasing the opportunities for boxers across the weight divisions.
Having one world champion per division naturally appeals to purists, but if that champion only fights once a year (not uncommon in boxing) it means very limited opportunities for the rest of the weight class.
But the proliferation of titles – there are four major sanctioning bodies, plus often a series of "super", "regular" and "diamond" belts – degrades what a champion truly is. It also confuses fans and means that boxers end up paying an excess of sanctioning fees to the alphabet bodies.
Mayweather's view is that there are "too many champions. It's no such thing as a super champion, not at all. And I'm not taking anything away from no fighter. It's too many belts.
"And the reason why it's too [many], let me tell people what's going on in the sport of boxing, why there are so many different titles and so many different belts.
"People don't know you have to pay, for every belt you win, there's a sanctioning fee. If a fighter has just the regular belt, he has to pay a sanctioning fee. If a fighter is a super champion, he has to pay a sanctioning fee. This is not good for the sport of boxing.
"Every fighter is a champion now. Belts now is like a fighter winning an amateur trophy. We gotta clean this sport of boxing up."