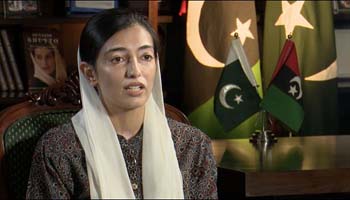 Rise of Aseefa Bhutto in politics
Wajid Shamsul Hasan
Yet another Bhutto rose from Multan to lead the way in Pakistan's chequered politics with pitfalls at every step. Youngest daughter of Martyred Mohtarma Benazir Bhutto described in affection by her as 'dynamite' Aseefa Bhutto Zardari has all those qualities that made her mother a great leader. As a youngster she became a Pakistani health activist who jumped in the foray as the UN Ambassador for polio eradication in the country where the crippling disease was dreaded by all parents.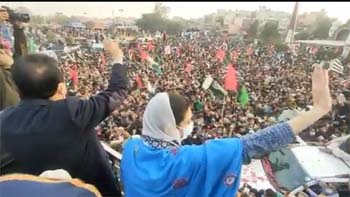 It was definitely one of the most eventful days when Prime Minister of Pakistan Mohtarma Benazir Bhutto held an open kutchery to administer polio drops into the mouth of tiny Aseefa to ensure that she is safe from the devastating effects of the crippling disease afflicting hundreds and thousands of uncared for children in Pakistan mostly having no resources for the treatment or knowledge of it beyond their means.
She has been the first baby in Pakistan who got polio vaccine after her mother in 1994 originated a significant immunisation drive. Multan's historic significance is much more than that. It was here that Bhutto Sahib addressed the select gathering of Pakistani scientists when he told them "we shall eat grass, if need be," to provide them funds to make a nuclear bomb.
Benazir Bhutto's was a crusade against heaviest odds—one the one hand opposed by the bigoted mullas who carried on a concerted campaign opposing it, misinforming the masses from the pulpit that polio drops as a matter of fact would make children castrated and helpless in procreation when they grow up. For them it was an American conspiracy to scuttle the growth of Muslim population. Besides the mullas being the major hurdle in the way of eradication of polio and organised family planning to save the country from famine and starvation. Of course, in this whole scheme of things to eradicate polio and control population, illiteracy has been the national curse.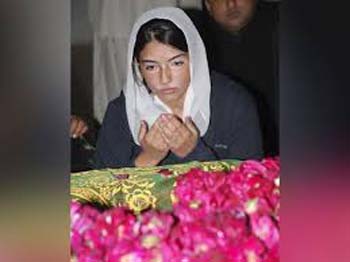 Like her 'dearest mother', Aseefa Bhutto too had ingrained qualities of leadership in her. Shaheed Zulfikar Ali Bhutto had favoured Benazir Bhutto and not the boys, to have a role in politics when he took her to Simla in 1972 where he signed the Simla Agreement with Prime Minister Indira Gandhi ensuring peace in the Indo-Pakistan region covering nearly a period of around half a century. Little Aseefa too had been with her mother in 1993 when she along with Asif Zardari visited the United States on a crucial mission to Washington to convince the Congress to give up the draconian idea of imposing sanctions on Pakistan's nuclear programme. Benazir Bhutto saved Prime Minister Nawaz Sharif from being pilloried by the American administration to save Pakistan from being punished and strangled by Washington. It was she who pulled 'the Pakistani chestnuts out of fire' as described by India Today.
In 2018 it was expected that she could possibly enter politics but it proved to just a rumour. It was only in 2009 when she for the first time made a maiden speech. She assumed the role of a social activist and became a UN Polio Ambassador. She is also likewise a Rotary Ambassador who isn't associated with politics yet keeps giving her views through her social media accounts. Ever since her elder brother Bilawal Bhutto Zardari assumed the Chairmanship of Pakistan Peoples Party Aseefa and her middle sister Bakhtawar who happily got engaged to Mahmood on November 19th, stood by her brother to be always with him as pillars of support to keep alighted Benazir Bhutto's political legacy for the service of the people and the welfare of the masses. She holds a degree of Masters in Global Health obtained from the University College London. Her graduation ceremony held in London was attended by many including her father, her aunt Sanam Bhutto, Bilawal Bhutto, sister Bakhtawar and Wajid Shamsul Hasan, former Pakistani High Commissioner to London.
Aseefa was born on 3rd Feb 1993 in London. And I remember the day Bibi rang me up at Karachi Press Club to ask me to provide her views as to the future course of events. She was under pressure from the senior leadership of her party to join hands with the then President Ghulam Ishaq Khan. She asked me to consult our political guru I.A.Rehman. Our views were contrary to the views of the senior PPP leaders. We believed that President Ghulam Ishaq Khan was the kingpin in the hands of Establishment including the GHQ. We believed that it would always be easier to challenge Prime Minister Nawaz Sharif since we had the street power while President Ghulam Ishaq Khan himself was pillar of the civil-military bureaucracy and would not care for popular support.
No doubt she was born with a silver spoon but politics was in her blood since she was scion of the most prominent political family of Pakistan. From her grandfather, grand mother's and mother's side she has the bluest of political blood. Her late mother Benazir Bhutto served as the Muslim female to be elected Prime Minister of Pakistan twice. Notwithstanding the horrendous tragedy of her mother's assassination in December 2007 and her own experience as one of the three Bhutto children who used to hang onto Bibi to accompany her to this jail, prison or court—to attend to her father's incarceration for nearly 12 years under Prime Minister Nawaz Sharif or President General Pervez Musharraf. Only the other day a firebrand Aseefa defied a cordon of 30 cops when they were shifting Zardari Sahib to jail from hospital. In the midst of hullabaloo created by the cops, Aseefa somehow managed to grab hold of her father's hand when he was being wheel-chaired to jail.
In the background when one hears Prime Minister Imran Khan lament a great deal of his 22 years in jail-free politics masquerading as a leader who suffered a lot at the hands of the government of the day when he did not. As a matter of fact IK would always be recalled as the defender of Musharraf's government who helped in securing the referendum.
For me who has seen Aseefa grow from tiny tot to a full grown matured woman, making sensible decisions, immaculate in her conduct and inspiring PPP workers to rise to newer heights of socio-economic and political commitment to defy dictatorship like her grandfather, grand mother and illustrious mother– Aseefa Bhutto-Zardari's participation today in the Multan public meeting of the Pakistan Democratic Movement (PDM) as her formal launch in politics of yet another Bhutto shall remain a landmark event. Perhaps that is the reason for the growing panic in the PTI leadership.
One must remember that much before Bilawal had taken a formal plunge into Pakistani politics, former President Asif Ali Zardari had repeatedly talked about his son's involvement in politics and Aseefa Bhutto's leadership potentials. It may be mentioned that Aseefa has been assisting Party chairman where needed. After recent illness of Zardari Sahib and restriction on his movement, Bilawal took up the challenge of leading the PPP almost single-handedly in GB elections. His recent one month long rigorous campaigning in the north proved his mettle for running the party's campaign for the general elections –irrespective of the fact that polls were highly susceptible. To sum it up—like father, like grandfather, like grandmother, like mother—Aseefa Bhutto Zardari is the leader who shall, Inshallah, occupy the central stage in Pakistan's politics for years to come.
The writer is a Pakistani diplomat. He served as the High Commissioner of Pakistan to the United Kingdom.