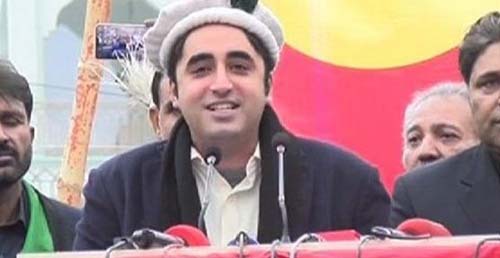 PTI-led govt to fall: Bilawal Bhutto
Staff Writer
Gilgit: Pakistan People's Party (PPP) chief Bilawal Bhutto Zardari has claimed that the Pakistan Tehrik-e-Insaf (PTI)-led government will fall by January.
In a media interaction here this week, he said that the people of Gilgit-Baltistan were supporting the PPP for the last three generations.
"The people of GB have shown trust on the opposition by voting far more for the opposition parties than the PTI. They have displayed mistrust on this fake PTI government," he added.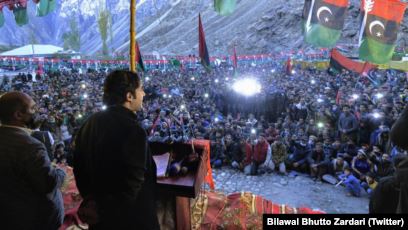 Bilawal Bhutto said that women were not allowed to vote in Tangir. "The entire world knows about it through foreign media present in GB. We demand to provide these 7000 women their right to vote. The law says that these women should be allowed to vote," he said.
Bilawal Bhutto Zardari said that the election commissioner of GB had been proved to be biased in favour of the federal government.
He said that a journalist has tweeted a photograph of Election commissioner sitting with governor GB and PTI minister Amin Gandapur.
The PPP Chairman saluted the people of GB who made difficult for the federal government to form the government in GB. He appealed to the independent winners not to trade their victory to a government which is about to end by January.
The PPP Chairman said that PTI was telling every independent that he was the candidate of chief minister. "They are befooling them but the PTI will not make them chief minister. PTI is cheating all of them. PTI has not nominated their candidate for chief minister whereas PPP has announced its candidate," he remarked.
He said that the Sindh government was the first in announcing measures to deal with Covid-19 but Imran Khan had made them disputed. "We have to send Imran Khan packing because he has failed on every front whether Kashmir cause to Covid-19 because PTI-led government does not have the capacity," he maintained.
He said that we will tell the whole Pakistan about federal government's rigging in GB from the stage of Pakistan Democratic Movement (PDM) public gathering in Peshawar.
"We have a program of public gathering, then a long march and then resignations from parliament and will do anything necessary to send Imran Khan Khan home," he said.