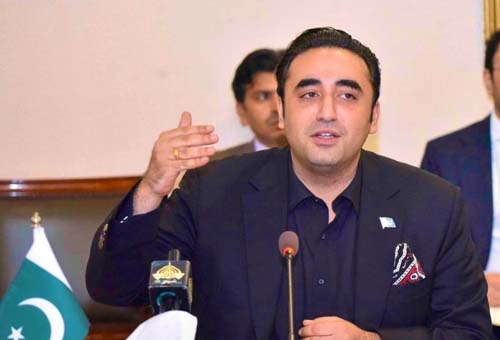 PPP committed to Charter of Democracy: Bilawal Bhutto
Liaquat Ali
Islamabad: Pakistan People's Party Chairman Bilawal Bhutto Zardari said this week that the PPP was committed to the Charter of Democracy signed on May 14, seven years ago.
"Shaheed Benazir Bhutto and Mian Nawaz Sharif signed historic Charter of Democracy on May 14," Bilawal Bhutto – the incumbent and Foreign Minister 0 said in a message to commemorate the CoD.
"Perseverance in implementation of the charter of democracy will enhance the country's dignity and prestige," he said.
He said that Asif Ali Zardari by implementing the charter delegated all presidential powers to the parliament. "18th Constitutional Amendment is a charter between the federation and its federating units," he said.
"Today Parliament being attacked and its powers being challenged and a new constitution being written, which will not be accepted by the People's Party," he said. "It is the mandate of the parliament to legislate for constitution," he said.
"The state institutions required to implement the law legislated by the parliament". He urged for enforcement of those points of the charter of democracy that have yet to be implemented. "The Parliament is the supreme institution and everyone have to oblige it," he added.
The Charter of Democracy envisioned establishment of a political system of harmony and reconciliation in Pakistan with the aim to ensure continuity of a strong democratic system.
Setting aside differences of the past, the two mainstream parties, the PML-N and the PPP had adopted the thirty-six point CoD, declaring that they would respect electoral mandate of representative governments and that they shall not undermine each other through extra constitutional ways.
Under the Charter, they pledged that no party shall solicit the support of military to come into power or to dislodge a democratic government.
The significant features of the CoD were constitutional amendments, code of conduct, free and fair elections and civil-military relations. It is a detailed document, covering most aspects which had been hampering the growth of democracy in Pakistan.
Later, some other parties of the Alliance for the Restoration of Democracy, including Jamiat Ulema-e-Pakistan, Jamhoori Watan Party, Pakistan Democratic Party, Jamiat Ahle Hadith and Pakistan Christian Party signed the CoD document.
The historic18th Amendment is also an outcome of the COD under which infringements on the constitution of Pakistan were reversed.
Greater autonomy was given to the provinces with the devolution of many subjects and abolishment of the concurrent list.
Under the 18th amendment also, the powers of the President were shifted to the parliament and the NWFP was given the nomenclature of Khyber Pakhtunkhwa.