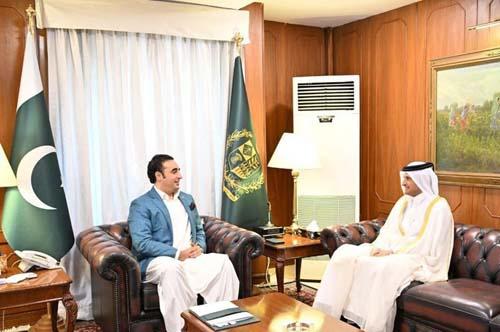 Qatar always ready to cooperate with Pakistan: Ambassador Sheikh Saoud bin Abdulrahman Al Thani
Staff Writer
Islamabad: Ambassador of the State of Qatar Sheikh Saoud bin Abdulrahman Al Thani this week said that his country was always ready to cooperate with Pakistan.
In a meeting with Minister of State for Foreign Affairs Hina Rabbani Khar, Ambassador Sheikh Saoud bin Abdulrahman Al Thani saif that both the countries had excellent diplomatic and people-to-people relations.
During the meeting, bilateral relations between the two countries were discussed, said a foreign ministry statement.
Qatar's trade relations with Pakistan have always been good. In 2018, trade between the two countries flourished and grew over 230 percent to $ 2.6 billion.
In June 2019, Qatar announced to invest $3 billion in Pakistan, in the form of deposits and direct investments. The economic partnership between both the countries is expected to reach $9 billion once the investment is done.
In 2022, the Pakistani government announced its agreement with the royal family of Qatar for the possible hiring and deployment of Pakistan Army troops to provide security for the 2022 World Cup.