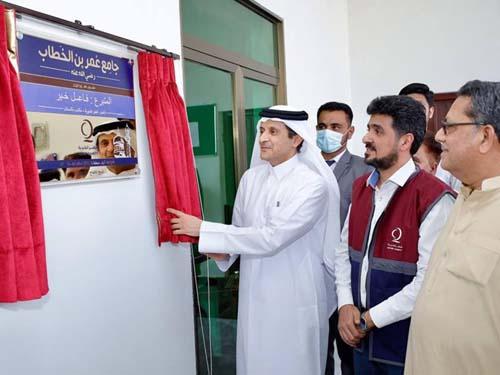 Ambassador Sheikh Saud bin Abdul Rahman al-Thani inaugurates Qatar Charity mosque in Islamabad
Staff Writer
Islamabad: Qatar's Ambassador to Pakistan Sheikh Saud bin Abdul Rahman al-Thani recently inaugurated the Qatar Charity (QC) mosque in Islamabad.
The ambassador was accompanied by a delegation from QC office in Pakistan. The opening was attended by Pakistani government officials, diplomats, and components of local humanitarian organisations.
The mosque, the only one in a modern residential area, is expected to accommodate 800 people to perform their prayers in a safe environment.
Previously, residents of the area had to travel long distances to perform prayers, and many of them were unable to perform congregational prayers due to the harsh weather conditions.
Ambassador Sheikh Saud bin Abdul Rahman al-Thani expressed his happiness and appreciation for this step and praised QC's efforts throughout Pakistan.
Amin Abdul Rahman, director of QC's office in Pakistan, highlighted the importance of the mosque from a religious point of view.
The imam of Omar Ibn al-Khattab Mosque, Qari Muhammad Fahim, also expressed thanks to the generous donors and philanthropists in Qatar.