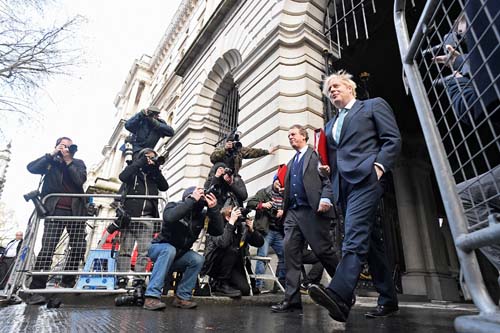 Britain needs a foreign policy reset
Christopher Phillips
The party is over. Boris Johnson, king of British populism, is stepping down as prime minister. Perhaps future historians will also mark this as the end of the "Brexit years." This era began in 2016 when Johnson threw his weight behind the campaign to leave the EU, arguably tipping the balance in its favor. Since then, under both Johnson and his predecessor, Theresa May, Britain has pursued foreign policy fantasy.
London has wanted to be more influential globally despite leaving the world's largest trading bloc. It has wanted to be a "world-leading" global player, while hurling abuse and venom at its nearest allies and neighbors. In the same way that US foreign policy has become less erratic since the departure of Donald Trump, Johnson's departure could similarly offer Britain the chance to reset and reconsider its approach.
Like most addictions, Britain got hooked on foreign policy fantasy in stages. Before the 2016 Brexit referendum London already had an oversized sense of its own importance. Structural advantages, such as its permanent seat on the UN Security Council and close alliance with the US, allowed it to punch above its weight in global affairs. Memories of empire and past power lulled some leaders and members of the public further to believe that Britain had some kind of right to global influence.
Yet after Britain voted to leave the EU, the architects and supporters of the Leave campaign, especially Johnson, increased the myth-making. Such was Britain's exceptionalism, they claimed, that London's global influence could actually increase after it left the EU. They dismissed the idea that being in the EU had amplified British power, both by increasing its wealth and allowing it to play a leading role within the bloc's collective international relations. Instead, they insisted, an unshackled "Global Britain" would be free to pursue its own, more influential path. Johnson famously promised in 2019 that Brexit would make Britain "the greatest place on earth."
The UK government first needs to acknowledge it has a problem before getting on the road to recovery.
Since then a bizarre parallel process has occurred. On the one hand, the UK's global influence has visibly declined. The UK has among the worst economic growth in the G7, while London is no longer the first port of call when a US president crosses the Atlantic, with France and Germany becoming more significant allies. Though Johnson has tried admirably to lead the support for Ukraine in its war with Russia, his desperation to do so is more a sign of weakness than strength: Trying to show Britain's global importance in Ukraine because it is no longer obvious elsewhere.
On the other hand, Johnson and his government have talked up more and more how "world-leading" Britain is. Johnson's speeches, for example, are littered with references to its "world-leading" response to the COVID-19 pandemic and vaccinations, despite it having above average death tolls. He protests too much: Such exaggerations and falsehoods are now commonplace in government literature, despite ample evidence to the contrary.
In the grip of this addiction, Britain under Johnson has actually damaged the country's international reputation. While leaving the EU in 2020 might have halted tensions with Brussels, they heightened instead. London blamed Brussels for cutting Northern Ireland off from the rest of the UK economy, despite Johnson having signed an agreement to this effect. It has even threatened to break its treaty obligations to change the situation, risking sanctions and even a trade war with Brussels. Similarly, the UK's decision to begin deporting asylum seekers to Rwanda has seen its credentials as a global defender of human rights slip along with its reputation for upholding international law.
Given Johnson's well-documented ambiguous relationship with the truth, it would be relatively easy for his successor to roll back on some of these excesses. The UK government first needs to acknowledge it has a problem before getting on the road to recovery. A new leader might dial down the hostile rhetoric toward the EU and seek to reset ties with Brussels. Like recovering addicts, it might focus its attention on self-improvement, addressing its failing economy and the cost-of-living crisis, before seeking to influence others. When it is ready to face up to the outside world again, it might make amends with the friends it hurt in the grip of its addiction, such as France, Ireland and other key European allies. Perhaps, then, it could begin to be rehabilitated as a responsible and productive member of the Western alliance, even if it remains outside the EU.
Sadly, however, neither of the two candidates to replace Johnson, Liz Truss and Rishi Sunak looks likely to do this. Both are quite Johnsonian in their politics, supporters of Brexit and hostile to the EU. Their style may be different, but the foreign policy fantasies look set to continue. It may not be until a new government comes to power, possibly under Keir Starmer, before Britain finally gets the foreign policy reset it needs. Hopefully he can help London finally kick the habit and avoid being tempted by foreign policy fantasies himself.
The writer is professor of international relations at Queen Mary University of London and author of "The Battle for Syria" and co-editor of "What next for Britain in the Middle East?"