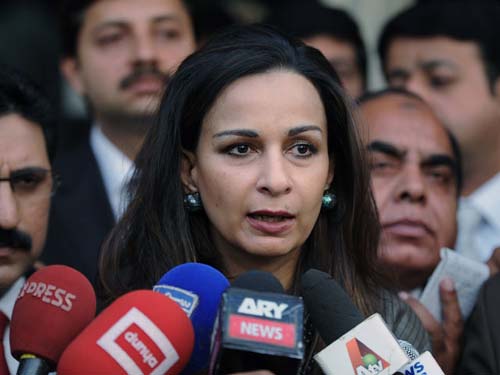 'Acting Like A Dark Messiah' Sherry Rehman Blames Imran Khan For Ruining Economy
Covert Report
Senator Sherry Rehman, a senior Pakistani politician, said this week the country needed "stabilization" and "healing" after the departure of former prime minister Imran Khan's government that was driven out of power in a no-confidence vote earlier this month.
Rehman, who was recently appointed Pakistan's new climate change minister, issued the statement during an interview with BBC World. She blamed Khan's Pakistan Tehrik-e-Insaf (PTI) government for polarizing her country.
"Pakistan really needs stabilization right now," she noted. "It needs healing," Rehman said, adding that the country's new administration had limited time to deal with all the challenges left behind by the previous government.
"[Ex-PM] Khan left the economy in perilous shambles," she said. "In fact, we are in a situation where just the external and local debt is so high that we are going to have to be firefighting through the next few months. And as you can see, Khan is out there provoking Pakistan and many of his old supporters and new ones perhaps."
Asked if Pakistan's new coalition government was likely to hold, she said the Pakistan People's Party (PPP) had managed to keep its allies and partners together in the past while it was ruling the country between 2008 and 2013.
"We ran a coalition quite successfully for the entire term and we had less seats, less of a majority than this government has in the house," she maintained. "So, it's a question of commitment, how important our joint goals are, and how sustainable we can stay. I am confident we can stay the course, given the nature of challenges facing us."
Rehman said Pakistan's new government was going to "repeal some of the reforms" introduced by the former prime minister. "Those are not reforms, those are black laws that just privilege his party and removed the level playing field we need," she added. Pakistan's climate change minister said Khan was "out there," acting like "a dark messiah to the people."
Earlier, National Security Committee ruled out any "foreign conspiracy" behind the removal of Khan from power through a no-trust vote in parliament.
The development comes after Khan's repeated allegations in public rallies that a "US-instigated conspiracy" was behind his ouster for what he said pursuing an "independent" foreign policy for Pakistan.
Khan claimed his government had received a letter from the then Pakistani ambassador in Washington, which threatened a "regime change" in Pakistan. The US has dismissed the allegations, saying there was "absolutely no truth" in the claims.