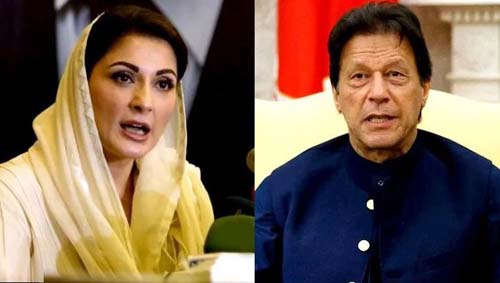 Imran Khan team members will be arrested soon: Maryam Nawaz
Staff Writer
Islamabad: Pakistan Muslim League Nawaz (PMLN) vice president Maryam Nawaz while lashing out at former Prime Minister Imran Khan this week said that Imran Khan's former cabinet will be arrested soon.
While addressing Imran Khan on Twitter, she wrote that Tousha Khan [Imran Khan] said that current government's 60% of the cabinet is on bail. But listen carefully, very soon your entire former cabinet including you will be arrested and no one will give them bail.
She added that "we were caught in false cases and in revenge while your cases will be based on serious crimes and irrefutable evidence. Meanwhile in response to Pakistan Tehreek-e-Insaf's (PTI) public mobilisation campaign, the Pakistan Muslim League-Nawaz (PML-N) too decided to hold rallies in major cities of Punjab immediately after Eidul Fitr."
Maryam Nawaz will lead the rallies which will be held one after another in major Punjab cities.
In the first phase, the PML-N rallies will be held in Okara, Sahiwal, Faisalabad, Jhelum, Gujranwala, Sheikhupura and other cities of Punjab. The rallies will also be held in Khyber-Pakhtunkhwa and Sindh in second phase, sources say. The PML-N leadership has also directed Punjab President Rana Sanaullah to prepare a schedule of meetings, it added.