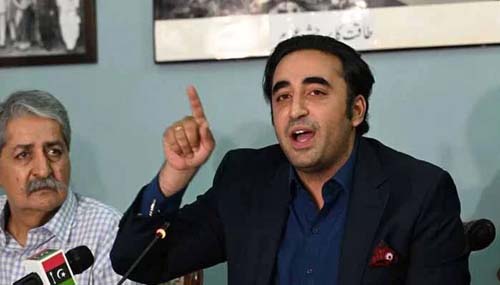 Polls impossible without electoral reforms: Bilawal Bhutto
Staff Writer
Karachi: Pakistan People's Party (PPP) Chairman Bilawal Bhutto Zardari has appreciated the efforts of party workers in 'getting rid of the Imran Khan-led government' and said that electoral reforms were imperative before holding free and transparent general elections in the country.
"Electoral reforms are necessary for free and fair elections and to stop the repeat of 2018 selection," he said after party's Central Executive Committee (CEC) meeting.
Bilawal, who became the country's youngest Foreign Minister this week, said transition from 'controversial to constitutional' has been achieved by democratic forces and the next step towards making the country's political system non-controversial is to reverse the electoral reforms introduced by the PTI-led government which included the use of electronic voting machine (EVM) and overseas voting rights.
"We have to undo the damage done by Imran Khan to our electoral system and we have to work together on building consensus for new electoral reforms."
Bilawal said the previous regime led by Imran Khan tried to clip the wings of Election Commission of Pakistan (ECP) and also lashed out at him for demanding ECP chief's resignation.
He said for the first time in country's history the government was toppled through no-trust motion and constitutional means.
"The future governments will only be challenged through democratic means," he added.
The PPP leader said Imran and his "co-conspirators" abrogated the Constitution by making the then deputy speaker to reject the no-trust motion filed by the joint opposition.
"We will request our allies to hold a probe into the violation and abrogation of the Constitution by PTI… Imran Khan's politics is based on lies, propaganda."
He said the establishment and other institutions became controversial during the tenure of PTI due to "Imran Khan's ego".
"Now all institutions will work within their constitutional ambit… Imran Khan's efforts to turn all institutions into his tiger force have been foiled."
Speaking about the suicide attack in Karachi University, Bilawal said the attack on Chinese national was conspiracy against Pakistan and added that the incumbent government will not tolerate such incidents.
"We are aware of difficulties and problems being faced by Baloch people… but we believe that you can get your rights through peaceful struggle."
Bilawal said solution to all problems lies in strong democracy and they will take steps to resolve the issue of the masses.
He said the reengagement between PPP and PML-N is a good sign for country's democracy and both the parties will soon formulate a new Charter of Democracy.
Bilawal said he held meetings with former PM and PML-N supremo Nawaz Sharif in London and discussed the future prospect of democracy in the country.
"I will take oath tomorrow to become part of Shehbaz-led government," he confirmed.