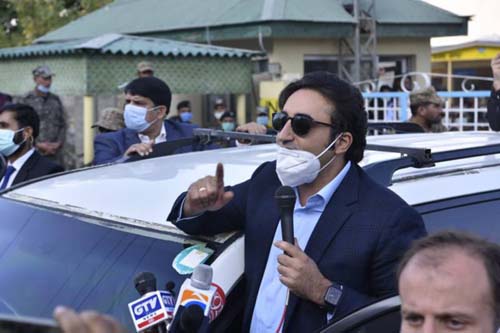 Bilawal Bhutto pledges rights for GB
Newswire
Astore: Pakistan People's Party (PPP) chairman Bilawal Bhutto Zardari has promised equal rights for the people of Gilgit-Baltistan.
Speaking at a public meeting in Astore last week, the PPP leader said that Gilgit-Baltistan would also be given the right to rule and the right to property, and the right to employment.
Criticizing the present government, Bilawal Bhutto Zardari said that jobs were being snatched from the people during the rule of Imran Khan and the people are carrying the burden of the incompetence of the government.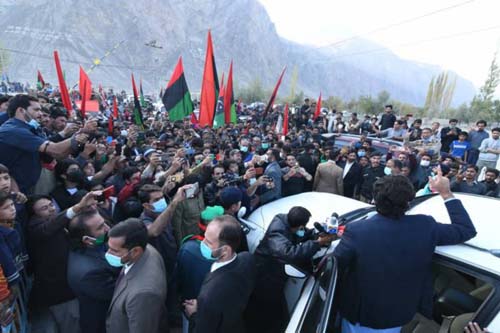 He said that the people were requested to form a government in Gilgit-Baltistan by sealing the arrow of the Awami democratic party instead of wasting their precious vote.
He said Zulfiqar Ali Bhutto also announced the end of FCR Rajagiri and wheat subsidy to the people of Gilgit-Baltistan in Astore.
"Benazir Bhutto had been fighting for the rights of Gilgit-Baltistan but no party other than the PPP government has done anything for Gilgit-Baltistan," he said.
The 2020 Gilgit-Baltistan Assembly elections are scheduled to be held on November 15, 2020. This will be the region's third election since GB was given the power to rule itself in 2009 through its assembly.
The PML-N completed its term on June 23, 2020, and the Legislative Assembly wrapped up after five years in power. Mir Afzal was sworn in as the caretaker chief minister for GB on June 24.
GB has 24 constituencies and its assembly has 33 seats. Candidates from political parties will stand for 24 seats. Of the remaining seats, six are reserved for women and three for technocrats. The area has a population of about 1.3 million and a total of 745,361 voters have registered, of which roughly half of 339,992 are women.
Some 330 people are standing in these elections. The PPP has announced candidates for all 24 constituencies. Bilawal Bhutto Zardari is running the campaign.