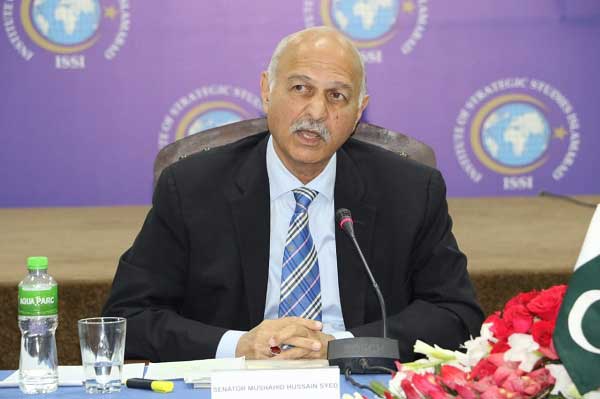 China lauded for launching far-reaching and consequential GDI
Gwadar Pro
Islamabad: China Pakistan Study Centre (CPSC) at the Institute of Strategic Studies Islamabad (ISSI), organized a seminar on Friday afternoon on China's "Global Development Initiative." The initiative aims to promote development cooperation to achieve sustainable development goals.
The chief guest at the seminar was Senator Mushahid Hussain Sayed, Chairperson Senate Defense Committee. Former Ambassador to China Masood Khalid was the keynote speaker.
During his address, Sayed lauded China for the launch of the far-reaching and consequential Global Development Initiative (GDI).
He stated that the world is currently undergoing both transformation and turmoil. Different leaders have described this decade in different ways. President Macron had accurately stated that this decade marked the end of 300 years of Western dominance. The current era was witnessing the rise of China and the 'Asian Century.'
Despite global conflicts, climate change, poverty, and energy-related challenges, China had shown impressive leadership. China's global strategy included the Global Development Initiative, Global Security Initiative, and Global Civilization Initiative, which shared many similarities. This initiative reflected that Chinese values prioritize cooperation, peace and respect. Sayed noted that Chinese strategic culture without a second thought was an embodiment of cooperation, peace and respect for all. He concluded by saying that Pakistan and China shared a long-standing, all-weather and time-tested strategic relationship. Therefore, both should work together to build an Asian century of progress, prosperity and cooperation.
In his welcome remarks, Director General ISSI Ambassador Sohail Mahmood said that GDI was a critical initiative launched by China at a time when the world was deeply affected by health and economic effects of Covid-19 pandemic and the deficit in the achievement of SDGs was growing.
Sohail noted that Pakistan was one of the first countries to lend its strong support for the GDI. Pakistan was also among the first countries to become a member of the GDI's 'Group of Friends' at the United Nations. A lot of progress had since been achieved from that platform. He underscored that at a time of global food, fuel and financial crises, initiatives like GDI were essential for the developing world. He also highlighted the contribution of BRI's flagship project, CPEC, to Pakistan's continued progress and prosperity.