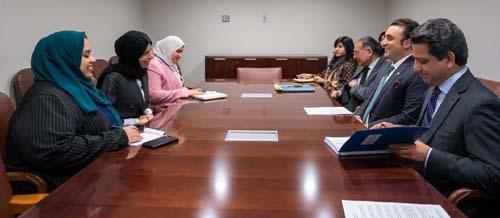 Qatar, Pakistan to enhance cooperation
New York: Qatar's Assistant Foreign Minister Lolwah bint Rashid Al Khater met with Minister of Foreign Affairs Bilawal Bhutto Zardari on the sidelines of the conference "Women in Islam: Understanding the Rights and Identity of Women in the Islamic World," which concluded in New York this week.
During the meeting, they discussed bilateral cooperation between the two countries and several conference-related issues, especially enhancing international efforts to empower women in all fields.
Analysts termed Pakistan-Qatar bilateral relations as exemplary and deep-rooted.
Former Ambassador Waheed Ahmed said Pakistan and Qatar have close and deep-rooted historical relations based on mutual trust and respect. These wide-ranging and multifaceted relations are covering various fields. Qatar being a leading economic power occupies a special place in the Muslim world.
"Qatar has developed itself by optimum utilization of natural resources and become an important regional country. Moreover, its involvement as a mediator in several conflicts in the Arab region and elsewhere has positioned it high on the list of countries active in conflict resolution," he said.
He added: "It is a fact that the politics of Qatar and its international relations are watched with great interest by foreign ministries, research centers and the media at all levels. Qatar played an essential role in helping end the longest war in American history, providing evacuations from Afghanistan and supporting human rights. The engagement of Qatar with Taliban is meant to improve the lives of the Afghan people."
International Relations expert Dr A Z Hilali said the relations between the Pakistan and Qatar are very longstanding and deep rooted.
Pakistan was among the countries that accepted Qatar as an independent state in the beginning. Pakistan also supported Qatar in development of their defense sector.
The Pakistan-Qatar relations are regulated by a set of signed agreements and MOUs covering the political, economic, commercial, cultural, scientific, technical, educational, health, security, legal, educational, and media sectors, he said.
He mentioned that Qatar also supported Pakistan in difficult times and it also supported the narrative of Pakistan on the Kashmir issue.
Hilali saif there were many Qatari investments in Pakistan in important sectors such as agriculture, information, and communication technology and the financial sector, Insurance, and real estate, along with others.