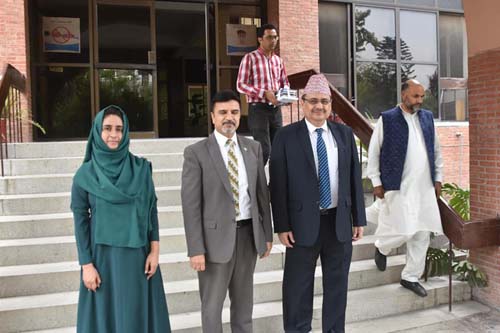 Nepal: Poetry "Nepal ki Awaz" Published in Urdu in Pakistan
Islamabad: The collection of Nepalese poetry has been published in Pakistan with title" Nepal ki Awaz" that means Voice of Nepal. Certainly, what literary people write is the voice of the people and their country. Nepal and Pakistan enjoy very close cordial relations but they are mostly in political circle only. The book on Nepalese poetry will add to the understanding of Pakistani readers about Nepal. It is a contribution to bridging the gaps between the people of both countries. South Asian countries have many commonalities but proxies and poverty keep them from meeting and knowing one another. Exchange of literary work will fulfill, to some extent at least, the requirement of providing knowledge and wisdom the other nation carries.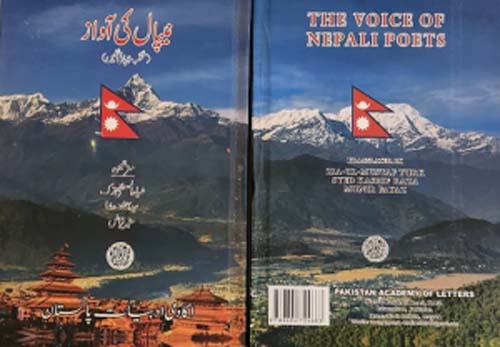 The Ambassador of Nepal Tapas Adhikari in the recent days shared the names of the poets and their work that has been translated into Urdu in Pakistan as: 'Dharnidhar Koirala-Nepal, Mahanand Sapkota-Aw, Lekhnath Paudyal- Suga of cage, Gopalprasad Rimal- Mother's dream, Siddhicharan Shrestha-Own introduction, Bhawani monk-sad story of sadness, Kedarman distressed-Changa, Madhav Prasad Ghimire-Kali Gandaki, Vijay Malla while teaching maps to daughter, Bhiman @PERSON.firstname @PERSON.middlename @PERSON.lastname wake up Asia, Mohan Koirala, Sarangi, Jagdish Shamser Rana-Keti goes to city, Parijat-Barako Tree, Bhupi Sherchan- Candle's Teach, Ishwar Vallabh-Story of cruel thoughts, Vash Need this kind of flower, Dwarikalal Shrestha-searched by these eyes, Bairagi Kaila-married woman laborer's diary, Ratna Shamser Thapa-an other journey, Krishna devotee Shrestha-my generation, Tulsi Day-under the lighting lamp, Kali Prasad Rijal-my wish, Haribhakta Katuwal-this is life What is life, Upendra Shrestha- Story of Darkness and Light, Bhawani Ghimire- Real Thoughts, Kundan Sharma- A Long Way, Madan Regmi- Timi near the sea And far away, Bimal Koirala-Fruit Muntia, SP Koirala – Beginning, Hari Adhikari-Adhikari-Worship of rights, Purushottam Subedi-In favor of the fight, changes in Maila-Kathmandu, Dinesh Adhikari – Caste, Navaraj Lamsal-Harsal's a high noise, Momila-your national silent voice Ma' Adi 3 poems are translated in Urdu language by Zia-ul-Mustafa Turk, Syed Kasif Raza, Munir Fayyaz.
The Ambassador said on this occasion," Translation of the collection includes the poems of Nepal's dignified writers written in the last 5 years. Publication of Nepali literature in the national language of Pakistan will give Pakistani writers an opportunity to get the taste of Nepali literature. It will be helpful in increasing the bilateral understanding. Nepalese Embassy, Islamabad co-operated the translation of this poem."
The translation has been published by Pakistan Academy of Letters that is the central department for writers, poets under the government of Pakistan. It is situated in Islamabad. The administration of this department is supposed to distribute the publication among not only the poets but editors and journalists who are working on international relations, especially on Nepal Pakistan bilateral relations. Moreover, the academy should make arrangement for the publication is provided to diplomats of SAARC countries particularly where we badly need the same better understanding. This effort by the Embassy of Nepal can convince the others as well to work on the same line.
Pakistan and Nepal had been working on promotion of relations and cooperation through culture in the past. Both countries were producing joint feature films. A number of Nepalese artists played key roles in Pakistani movies. Literature and culture sectors can further be utilized to enhancing the mutual ties at P-to-P level that is a prerequisite to forge political and economic cooperation among the nations.