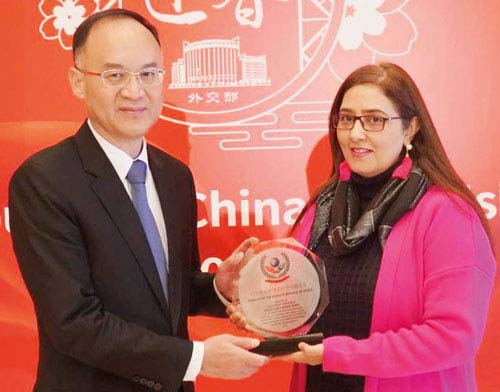 Pakistan-China friendship celebrated with musical night
Staff Writer
Rawalpindi: The All Pakistan Chinese Overseas Youth Federation (APCOYF) this week organised a musical night at the Rawalpindi Arts Council for artists representing the youth, setting an example of New Year happiness and Pakistan-China friendship.
This was the first program to promote the art of young singers from the platform of APCOYF. The young singers highly appreciated the efforts of the president of the federation Aasma Ismail Butt and thanked the president of the federation for providing a platform to the new young singers in the form of the Rawalpindi Arts Council.
On this occasion, President APCOYF Aasma Ismail Butt said the young generation and artists would have to play an important role in making Pakistan-China friendship more stable and highlighting the culture of both countries.
The participants earlier welcomed the guests by hoisting the flags of Pakistan and China and chanted slogans of Long Live Pakistan-China friendship. The young singers showcased their talent and received a standing ovation for their performances.
Pakistan Federal Union of Journalists (PFUJ) President Afzal Butt, Finance Secretary National Press Club Nayyer Ali, RIUJ President Abid Abbasi, Rudn Enclave Housing Society GM Mohammad Rashid, Echo Builders Real Estate and Marketing CEO Naeem Pasha attended musical night as special guests.
The guests appreciated the efforts of Federation President Aasma Ismail Butt in highlighting the culture of Pakistan and China.
The APCOYF president was presented with an honorary shield by Mohammad Rashid, General Manager of Rudn Enclave Housing Society and Naeem Pasha, Chief Executive Officer of Echo Builders Real Estate and Marketing.