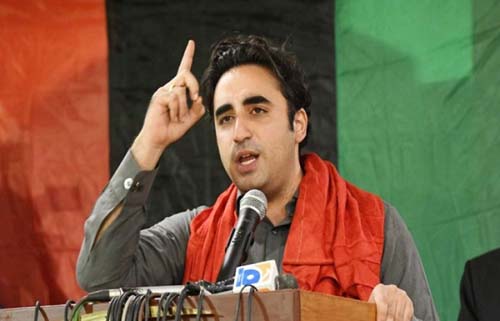 Federal govt has brought destruction: Bilawal Bhutto
Karachi: Pakistan People's Party (PPP) Chairman Bilawal Bhutto Zardari this week alleged that Prime Minister Imran Khan was trying to turn all institutions of the country into the PTI's Tiger Force.
"It [PTI government] has not brought a change, but destruction," he said while addressing a PPP rally at Karachi's Bagh-e-Jinnah organised to commemorate those who lost their lives in the 2007 Karsaz bombing on Benazir Bhutto's homecoming convoy.
The Corona Relief Tiger Force, was formed by the government last year to hire the volunteer services of citizens to mitigate the impact of Covid-19
The PPP chairman, flanked by his sister Aseefa Bhutto Zardari, said he was warning Prime Minister Imran Khan that his reverse counting [for his government] had begun.
He added that the premier was trying to turn all institutions of the country into his Tiger Force, claiming that he had attacked the parliament, Senate, judiciary, Election Commission of Pakistan as well as Punjab police and the province's bureaucracy.
"No institution is left as he is even trying to turn the media into his Tiger Force," Bilawal claimed. He promised the participants that his party would form the next government "very soon". "Our protest will continue until [PM] Imran's rule is over," he added. "The PTI's politics is not of change, but of destruction, he said.
"Look what they did to the curriculum… this is not change but destruction… look what they did to HEC [Higher Education Commission] by reducing its budget… this is not change but destruction," he told the charged crowd.
The PPP chairman recalled that Imran Khan used to say that "when inflation rises, it means the prime minister is corrupt". "Today the country is at a historic high of inflation which means that we have the most corrupt prime minister in the history of Pakistan."
He noted that everything, from wheat to sugar, was being sold at record high prices now. "Imran Khan has destroyed the economy of this country."
The PPP chairman said his party was protesting against the "PTIMF" economic policy from day one in a bid to stop the government from taking anti-people steps.
"We will not allow anyone from outside to make decisions for this country… only the people of the country are allowed to make them."
Bilawal said he could not promise to make everything right from day one but "we do promise to bring people-friendly policies immediately".
"We will construct houses, not demolish them… we will eliminate poverty, not the poor. We will raise people's salaries from day one… we will increase pensions from day one… we will give people jobs, we will continue our legacy, we will finish what [Bilawal's mother] Benazir Bhutto and [grandfather] Zulfikar Ali Bhutto started."
The PPP chairman said that when Benazir Bhutto returned to Pakistan, there was a wheat, oil and gas crisis and the country was ruled by a dictator. "We have a similar situation today with the country being ruled by dictatorship in the guise of democracy."