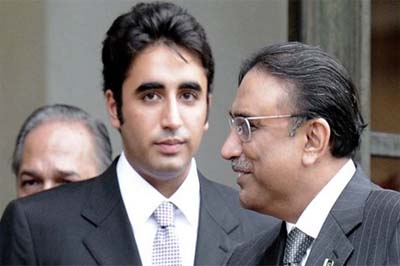 'If all you have to criticise me on is my age or my accent, then you really can't defeat me on the issues'
Islamabad: Bilawal Bhutto Zardari, son of the Muslim world's first female Prime Minister Benazir Bhutto, turned 33 this week.
Born on September 21, 1988, to Benazir Bhutto and Asif Ali Zardari, Bilawal Bhutto Zardari is the current chairman of the Pakistan People's Party.
For early education, Bilawal Bhutto attended Karachi Grammar School in Karachi, Froebel's International School in Islamabad before going into exile to Dubai in 1999 along with his mother.
For further studies, he followed in the footsteps of both his mother and his grandfather and applied to Oxford University, where he received his degree in Bachelor of Arts in 2012.
Here are a couple of famous Bilawal Bhutto Zardari quotes on the occasion of his 33rd birthday:
"We have to continue our progressive struggle and defeat the conspiracies of dictatorship."
"The court can, and must, only maintain its legitimacy through the dispensation of justice, not by coercion and censorship."
"Bhutto is an emotion, a love. To those who attack Malala, I say, if you attack one Malala, thousands of Malalas will be born."
"I know every child thinks of their mother as a superwoman; I certainly did."
"In Pakistan, there have been two real powers – one is Bhuttoism, and one is the worshipers of dictatorship. I call them the supporters of the establishment."
"I can't let my mother's death have been in vain. Democracy is the best revenge, and we will have it."
"I think censorship in the name of fighting fake news is a dangerous thing for Pakistan."
"Judicial activism must be lessened, and the judiciary should do its work and let politicians work."
"The PPP is not just a political party. This is our life."
"If all you have to criticise me on is my age or my accent, then you really can't defeat me on the issues."