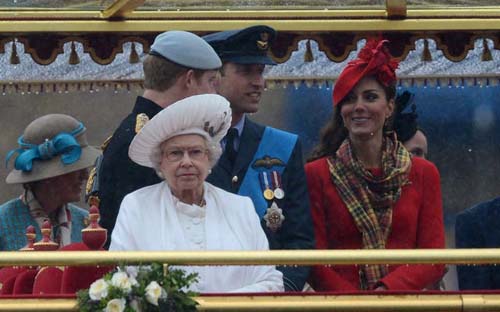 Royal fans urged to design NEW emblem for Queen's Jubilee
James Bickerton
On February 6, 2022 the Queen will mark 70 years on the throne, the first British Monarch to achieve this accolade. Festivities to mark the occasion will take place between June 2-5, with the public granted an additional bank holiday.
The V&A has invited all those aged between 13 and 25, who live in the UK, to submit their artwork for the emblem contest.
Their website states: "On behalf of Her Majesty The Queen, the V&A invite young people aged 13-25, based in the UK, to design an emblem for The Queen's Platinum Jubilee in 2022.
"The winning emblem will feature at celebrations marking Her Majesty's 70 years as Monarch, including street parties, televised national events and on official merchandise.
"You'll also be invited to take part in the celebrations during the Platinum Jubilee."
Judging will take place in two rounds, with submissions cut first to a long list of 100, then to a ten-strong shortlist. Submissions are open and the winner will be chosen and announced "in late July 2021".
To win a design must: "Be simple enough to work on small and large scales, in black and white and in colour. Include a drawing of a royal crown. Be relevant to the Platinum Jubilee."
Entries will be judged by a panel of four UK-based artists; Margaret Calvert, Lubna Chowdary, Yinka Ilori and Gabrielle Marcella.
Ms Marcella gives tips to those taking part, in a video posted on the official Royal Family YouTube channel.
She said: "One would be start with the basics, work with the first ideas that jump out at you when you imagine the emblem. These can often create the most emotive and impactful graphics.