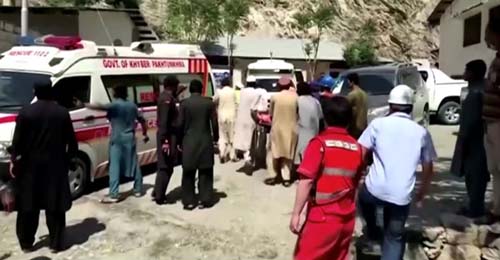 Pakistan, China to jointly investigate deadly bus blast
Mimi Lau and Catherine Wong
Beijing: China is sending a special team to Pakistan to work with local authorities in the ongoing rescue operation and investigation into Wednesday's deadly shuttle bus blast that killed at least 13 people, after Foreign Minister Wang Yi called for a probe into whether it was the result of a terror attack.
Foreign ministry spokesman Zhao Lijian said China was shocked by the incident which killed nine Chinese and was working to ensure the safety of its citizens in Pakistan. An inter-departmental team will be sent to the country for follow-up work, he added.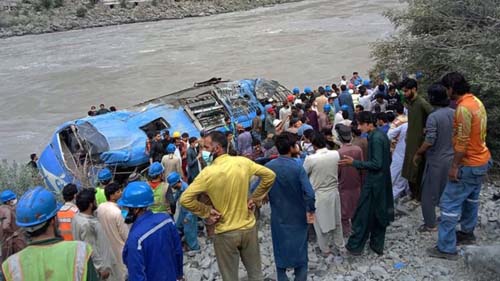 Zhao said China and Pakistan would work closely together and support each other during the investigation, which was announced after Wang condemned the blast and urged Pakistani authorities to get to the bottom of the incident.
The joint investigation was announced after Chinese Foreign Minister Wang Yi condemned the blast and urged the Pakistani authorities to get to the bottom of the incident.
Wang also asked them to earnestly treat and attend to the victims' needs, while taking all necessary measures to prevent it happening again. Pakistan should "immediately capture and severely punish" the perpetrators if it was confirmed as the work of terrorists, he said.
The bus was taking workers to a Chinese-funded dam construction site at the Dasu hydroelectric project in Khyber Pakhtunkhwa province, part of the China-Pakistan Economic Corridor (CPEC) – a US$65 billion investment plan which aims to connect western China to the Gwadar seaport in southern Pakistan.
The blast sparked an engine fire and plunged the bus into a ravine, according to a local official. The dead included nine Chinese engineers, surveyors and mechanical staff. A further 28 Chinese nationals were among the 36 people injured, in the worst incident so far to befall the CPEC project.
Wang's statement – which described him as "shocked" – was issued on Wednesday, after a meeting with his Pakistani counterpart Shah Mahmood Qureshi, who said preliminary indications were that a gas leak caused by mechanical failure could be to blame.
Wang said there should be a reflection in the wake of the incident on how to strengthen security measures for Sino-Pakistan bilateral cooperation projects to ensure their smooth and safe operation.
Inspector General Moazzam Jah Ansari, Khyber-Paktunkhwa's top police official, said two soldiers and two locals were also among the dead. "Looks like sabotage," he said, as he left for the site by helicopter. However, other officials have said a gas cylinder containing explosives used by engineers in construction projects could be to blame.
Media reports in China are pushing the tragedy as a "bombing", reflecting long-held concerns about the security of Chinese workers in Pakistan, where large numbers are now based to supervise and build infrastructure projects worth tens of billions of dollars funded by Beijing's Belt and Road Initiative.
But the projects have sparked resentment, particularly among separatist groups who say there have been few benefits for local people, along with the jobs they create being lost to foreigners.
There have been previous attacks on Chinese national in Pakistan, including a deadly suicide blast in April at a luxury hotel in southwest Balochistan where the Chinese ambassador was staying. He was unhurt in the attack, for which the Pakistani Taliban claimed responsibility.
The group has recently claimed a string of attacks, not only in Pakistan's restive tribal areas along the Afghanistan border but also in the country's cities, including the capital Islamabad.
In 2019, gunmen stormed a luxury hotel in Balochistan overlooking a flagship Chinese-backed project – the deepwater Gwadar seaport that gives China strategic access to the Arabian Sea – killing at least eight people.
And last June, Baloch insurgents targeted the Pakistan stock exchange, partly owned by Chinese companies, in the commercial capital of Karachi.
During his meeting with Wang, Qureshi expressed condolences to the Chinese over the explosion and vowed to continue the investigation and share the results with China.
He said China's loss was Pakistan's loss, as China remained his country's most reliable partner and he vowed to press ahead with safeguarding Chinese nationals in the country.
The two sides said they remained committed to "stand firmly together and support each other" on issues related to their core interests.
China promised to provide more Covid-19 vaccines to Pakistan while Qureshi hailed the progress of the CPEC project, which he said had won nationwide support in Pakistan.
Du Youkang, a former diplomat and international affairs researcher at Fudan University in Shanghai, said that while the casualties from the explosion made it the most serious since CPEC construction began, it was unlikely to have an overall adverse impact to such a "carefully derived bilateral development strategy".
"Whether it was an accident or terrorist attack which the Pakistani authorities are still investigating, this was the worst casualty for Chinese nationals since the construction of the corridor," Du said.
"Authorities from both sides are expected to be on high alert over safety and security issues from now on but it will not deter implementation progress of the Dasu hydropower plant, nor the China-Pakistan Economic Corridor."
Du noted that terrorist attacks were uncommon in the northern region and the Pakistani authorities had been offering military protection to the transport of Chinese engineers.
Wang Dehua, a South Asia specialist at the Shanghai Municipal Centre for International Studies, said the Dasu hydropower project remained a significant part of the China-Pakistan Economic Corridor.
"It is especially critical when it comes to the battle for water resources between Pakistan and India in the Kashmir region, as well as to the future stable electricity supply for Pakistan," Wang said.
But he echoed that the explosion would not deter the progress of the power plant. "China's world leading mega infrastructure capacity and abundant supply of engineering talent will ensure construction will proceed smoothly."