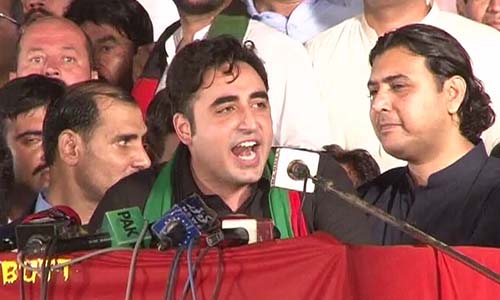 Bilawal Bhutto joined government employees' protest
Staff Writer
Islamabad: Chairman Pakistan People's Party (PPP) Bilawal Bhutto Zardari this week joined the protesting government employees to express solidarity with them outside Parliament House Islamabad.
Chairman Bilawal speaking with the government employees said that the federal government lies to the people of Pakistan and does not fulfil promises and agreement made with the government employees. He met the representative of the government employees and assured him of support of their demands. He said that he will raise their demands in the Parliament as well.
Bilawal thanked the media for reporting this protest and said that the media should become voice of the poor. He hoped that the media will expose the injustices to the government employees as well as the poor people of Pakistan for the last three years of the PTI government.
The government claims that the economy is taking off and "we are on economic progress then why the salaries of the government employees not increased."
The PTI government tells lies and does injustices to the poor people of Pakistan. The inflation in Pakistan has increase many folds, the poverty and unemployment has reached unprecedented high level during last three years. The government shouldhave increased salaries to a maximum level amid worldwide pandemic.
He said the PPP government had increased salaries up to 120 percent and pensions up to 100 percent during its tenure 2008-13. The government has the responsibility to increase salaries with the proportion of inflation in the country.
The PPP and opposition demand to provide relief to the people and these injustices will not be tolerated any more. He said that he has directed Sindh government to set the least wages at 25 thousand rupees. We will do everything in our capacity to stop this PTIMF budget in the National Assembly.
Chairman Bilawal said that if this PTIMF budget is passed in the assembly then he will go to every nook and corner of the country to tell the people of Pakistan that they are suffering due to incapacity and inability of this government. The poor man is bearing the burden of this PTIMF budget. He said that only the people's government can solve the problems the people are faced with. He assured the protesting employees that the PPP will run a campaign to get rid of this PTIMF budget.
Chairman Bilawal said that we are demanding the government to act on the agreement it made with the employees. The government should increase salaries like the PPP had increased during its tenure in the government.