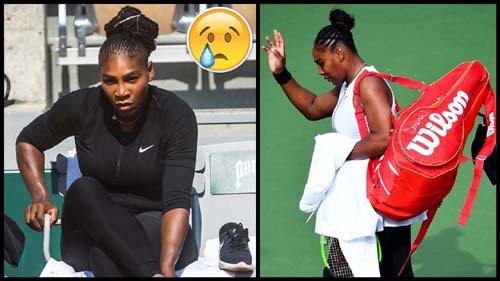 'Sad news': Tennis fans shattered over Serena Williams setback
Sam Goodwin
Serena Williams has become the latest high-profile player to withdraw from the Miami Open, joining Novak Djokovic, Roger Federer and Rafael Nadal.
The 23-time grand slam champion announced her withdrawal on Sunday in another blow to the prestigious Masters 1000 event which begins on Tuesday.
Williams, who has won the Miami Open a record eight times, cited recent oral surgery as the reason for her withdrawal.
"Miami is a special tournament for me because it's my home," she said in a statement.
"I am sad I won't be able to see the incredible fans this year, but I look forward to coming back soon."
The news comes as another huge blow for Miami Open organisers, with Djokovic, Nadal and Federer already deciding not to play. Fans were left shattered by the news.
Serena Williams is the latest superstar player to withdraw from Miami. It's turning into an absolute disaster for @MiamiOpen before the tournament has even started! Both No 1s on both tours already withdrawn. I just hope lessons are learnt as many predicted this months ago.
Williams' most recent match was at the Australian Open in February, where she lost to Naomi Osaka in the semi-final.
On Friday, World No.1 Djokovic announced that he will delay his comeback to the ATP Tour following the muscle injury he suffered while en route to his Australian Open victory.
Instead, he's decided to skip the Miami Open starting next week to spend more time with his family.
Djokovic sustained a muscle tear that hindered him during his successful title defence in Melbourne last month but the 33-year-old had planned to return at Miami before playing the Monte Carlo Masters and the ATP 250 Serbia Open.
"Dear fans, I'm very sorry to announce that this year I won't travel to Miami to compete," Djokovic tweeted.
"I decided to use this precious time at home to stay with my family.
"With all restrictions, I need to find balance in my time on tour and at home. I look forward to coming back next year."