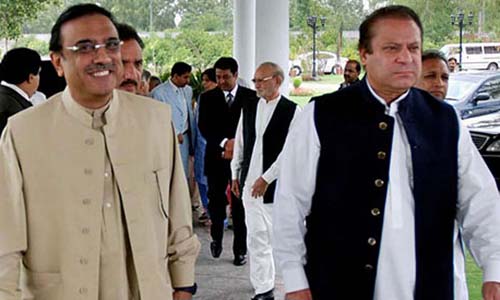 Zardari wants Sharif back
Newswire
Islamabad: Pakistan Peoples' Party (PPP) co-chairman Asif Ali Zardari this week urged Pakistan Muslim League (Nawaz) leader Nawaz Sharif to return to the country for join struggle against the federal government.
He said that be it long march or no-confidence motion against the Pakistan Tehrik-e-Insaf (PTI)-led government, former Prime Minister Nawaz Sharif must return to Pakistan.
Speaking during a meeting of the Pakistan Democratic Movement (PDM), the PPP co-chairman said that resigning from assemblies would strengthen Prime Minister Imran Khan, adding that his party prefers to fight staying in the parliament.
"This is not the first time that the democratic forces have encountered rigging," he said and added he had spent 14 years of his life in jail.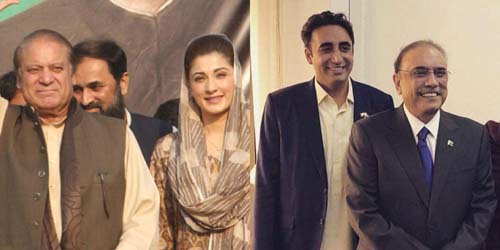 Zardari went on to say that they [PPP] had mobilized whole country when late former prime minister Benazir Bhutto returned to the country following her exile in 1986 and 2007.
He said that we have to plan the long march in the same way as we did on the arrival of Benazir Bhutto in 1986 and 2007. "I am not afraid of anyone, however, the struggle should be for the consolidation of democratic institutions rather than personal obstinacy," he added.
Zardari further said that "we contested Senate elections but former finance minister and PML-N senator Ishaq Dar didn't show up, adding that how do you [Nawaz Sharif] plan to solve issues of general public. You [Nawaz Sharif] did not increase salaries in your tenure, I increased salaries in my tenure."
The PPP co-chairman said: "If the PML-N supremo is ready for war, be it long march or no-confidence motion against government, he must return to Pakistan, adding that I am ready for war but perhaps my domicile is different. You [Nawaz Sharif] represent Punjab but I gave powers to the Parliament."
"The PPP and I were punished for passing 18th amendment and National Finance Commission Award (NFC) awards," he said adding that they were ready for struggle till the last breath but leaving the assemblies is tantamount to strengthening Imran Khan. "Don't make decisions that separate us," Asif Zardari said.
He said that the benefit of "our anarchy will benefit the enemies of democracy, Pakistan People's Party is a democratic party, we do not fight from the mountains but in the parliament."
The PPP co-chairman added that the chaos among the joint opposition will benefit the enemies of democracy, adding the Pakistan Peoples' Party is a democratic party.
Meanwhile, PPP chief Bilawal Bhutto Zardari has said democratic forces would have to "snatch" their space and that recent gains made due to the opposition's unity proved that democratic forces could not only snatch their 'space' but get success.
Bilawal said he personally felt that the opposition's resignations should be used like an 'atom bomb' or a 'last option' because cards played by the PDM within parliament had paid off.
The PPP chief said the PDM had decided to collect resignations of its parliamentarians and the same had reached the leadership.
He said PDM should focus on the card of no-confidence motion and options within parliament. "Any decision on resignations from assemblies would be made with consensus by the PDM."
"PDM's struggle has entered the final phase as the government's majority in the upper and lower houses of parliament has been exposed. Even in Punjab its majority is at stake," he said.
Repeats the opposition alliance should use resignation option like an 'atom bomb'
"Therefore, the PDM should take its political decisions with utmost seriousness to harm the government politically and achieve its target of supremacy of parliament and Constitution. I will present my proposals in Tuesday's meeting of the PDM," he said. "We achieved success within parliament and the kind of tough time given to the government by us is also seen within parliament."