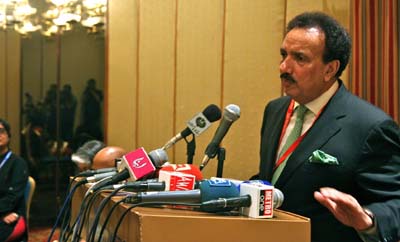 Senate greatly admires Senator Rehman Malik for his services to parliament
Newswire
Islamabad: The Senate of Pakistan in its session this week highly admired Senator A. Rehman Malik for his unmatched services to Parliament, public, and contribution as Chairman Senate Standing Committee on Interior that has emerged as one of the topmost committees regarding its achievements, making important legislation and dealing with matters of public importance. Chairman Senate Sadiq Sanjrani applauded his service with heavy desk thumping by all members of the house.
The Senate Standing Committee on Interior during the tenure accomplished many highly important issues including the Zainab Murder Case and other matters of public importance and interest.
The Committee received the maximum public petitions which it concluded with the deliverance of speedy justice to the petitioners within parameters of the law and also took Suo Moto notices on many incidents including human rights violations, corruption, terrorism, and attacks on law enforcement agencies.
Kashmir issue always remained at the top of its agenda and in each meeting the Indian forces brutalities were condemned, solidarity was expressed with Kashmiris and curfew days were counted and marked as 'black days' in human history. Apart from this, dragging Indian PM Narendra Modi in the International Court of Justice (ICJ) and International Criminal Court (ICC) for his crimes against humanity and removal of Pakistan name from FATF's Grey List always remained voice and demand of the Senate Standing Committee on Interior and number of Resolutions on Kashmir were unanimously passed.
Senator A. Rehman Malik thanked Chairman Senate Sadiq Sanjrani and members of the Upper House of Parliament for recognizing and applauding his contribution and hardworking as Chairman Senate Standing Committee and member of the House.
He said that he will continue to work for the wellbeing of his beloved country and serve the people of Pakistan and will be raising his voice for the oppressed people of Kashmir at all forums. He said that through his Public Institute of National Reforms, he will contribute to legal reforms to address the lacuna in the law which he has identified. He also thanked and appreciated the members and staff of the Senate Interior Committee.