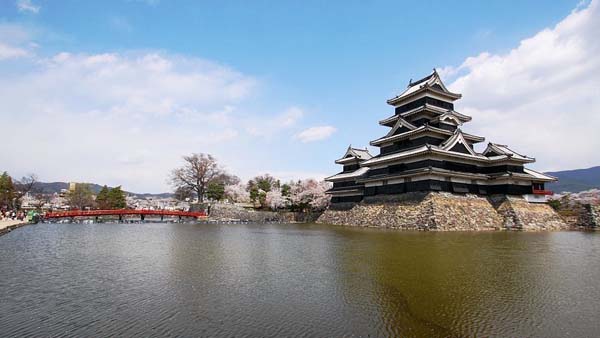 Matsumoto Castle: An irresistible air of composure and grace
George Lloyd
Matsumoto: Matsumoto Castle in Nagano Prefecture is one of the best-known of Japan's historic castles, alongside Himeji Castle in Hyogo Prefecture and Kumamoto Castle in Kyushu.
The castle is a National Treasure of Japan and is the oldest surviving six-story castle in the country, as well as one of the most complete.
Its imposing silhouette, combined with its characteristic black wainscoting, lend it an irresistible air of composure and grace.
The castle has its origins in the Sengoku period, when Japan was wracked by a series of long-running wars. It started out in 1504 as a fort for the Ogasawara clan, but was seized by the Takeda clan in 1550. It later fell into the hands of Tokugawa Ieyasu, before being captured by the Matsumoto clan.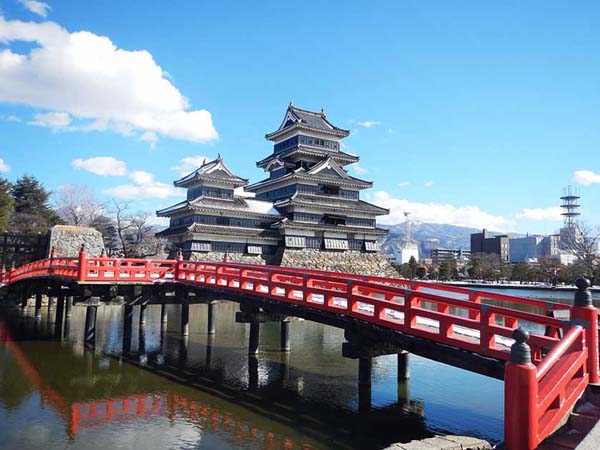 The castle keep and its smaller donjon were built between 1592 and 1614. By 1635, the Matsumoto clan no longer faced military threats, so they added a third, barely defended turret and a beautiful moon viewing room. The castle is unique in having both a secondary donjon and a turret adjoining the main keep.
You can still see the castle's original external stonework and wooden interiors, which is why a visit offers a more authentic experience than at Japanese castles rebuilt using ferro-concrete.
Particularly interesting are the steep wooden steps leading from one floor to the next, and the openings in the thick castle walls through which the defenders would drop stones onto the heads of invading soldiers.
From the observation deck on the sixth floor, there are commanding views of the valley in which Matsumoto sits. The castle's contrasting black and white, against the backdrop of the snow-capped Japanese Alps makes for wonderful scenery in the winter months.
Along the outer castle moat are hundreds of cherry trees that provide lovely views when they are in full bloom. Every April, the castle is a popular spot for cherry blossom viewing parties. Come at any other time of year, and you may well find you have the spacious castle grounds and park to yourself.
Also recommended is a trip to the museum in the castle grounds, where you can find out more about the history of the castle and the Matsumoto clan.
Matsumoto is a quiet and pretty city with lots of traditional crafts shops to distract you as you make your way to or from the station. The castle is a 15-minute walk or a 5-minute bus ride from JR Matsumoto station. It makes for a great day trip from Tokyo.
Matsumoto Castle is open from 8:30 a.m. to 5 p.m. daily (and until 6 p.m. during Obon and Golden Week). The last admission of the day is at 4:30 p.m. The castle is closed Dec 29-31. Admission is 700 yen.