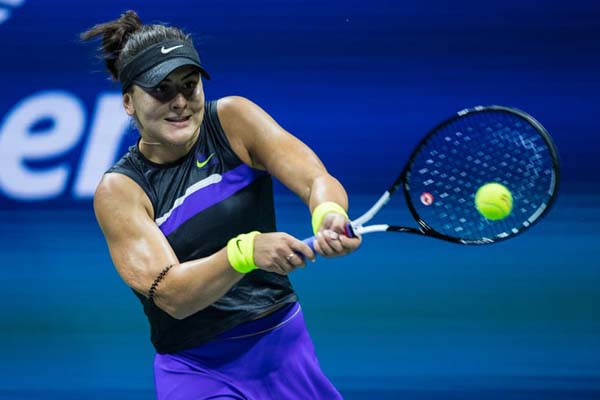 Back after 467 days: The uncertain journey of Bianca Andreescu
Joel Drucker
As 2019 ended, no women's player generated more intrigue and excitement than Bianca Andreescu. Over the course of that incredible year, she'd soared from a ranking of No. 152 at the beginning to '19 to No. 4 at the end. Along the way, Andreescu won significant WTA titles at Indian Wells, Toronto, and, most notably, the US Open.
Soon after, Andreescu's star dimmed considerably. There were injuries, there was the pandemic. When pro tennis resumed last August, Andreescu remained on the mend. As recently as last week, she withdrew from last week's pre-Aussie Open warm-up event in Melbourne. Red flag or prudence? No one, even Andreescu, will ever know.
So it was fitting that on Tennis Channel Live Monday night, analyst Jon Wertheim said we knew not what to expect from the 20-year-old Canadian when she took the court for her first round match versus Mihaela Buzarnescu—Andreescu's first match in 467 days.
Andreescu toughed out a three-setter, 6-2, 4-6, 6-3. The turning point came in the third set, when, serving at 3-all, love-40, Andreescu fought back to win that game and run out the match. Of course, we still don't know what to expect.
Andreescu's 2019 ascent was also accompanied by health woes that forced her off the tour for ample portions of spring and summer. At the end of that glorious breakthrough year, she hurt her left knee at the season-ending WTA Finals in Shenzhen.
Everything Andreescu has said reveals exquisite balance and awareness: her candor, her commitment to meditation, the breadth of her tennis, even the undramatic ways she engages with her coach and family. All of this is quite encouraging. Andreescu is not merely a potential star. She could well be a supernova.
Then again, Andreescu could also continue as one of those persistently enigmatic contenders, constantly balancing recovery with performance. As Charles Dickens once wrote, "I must be taken as I have been made. The success is not mine, the failure is not mine, but the two together make me." The book Dickens wrote this in: Great Expectations.