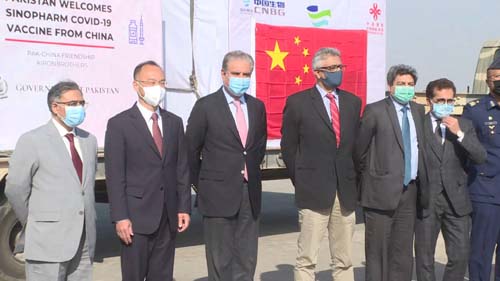 China proud to be the first to provide COVID-19 vaccines to Pakistan: Ambassador Nong Rong
Gwadar Pro
Islamabad: Chinese Ambassador Nong Rong this week said that Iron Brother China was proud to be the first country to provide COVID-19 vaccines to Pakistan.
"We are ready for our iron brother! Happy to learn that the Chinese government donated vaccines have been loaded to the special plane sent by Pakistan. Proud to be the first country to contribute to the vaccination plan of Pakistan," he tweeted hours before the vaccines arrived in Pakistan.
The ambassador's statement came after Pakistan's Planning Minister Asad Umar said that proper arrangements had been made to store the 500,000 vaccines that have been provided free of cost by Beijing.
"NCOC (National Command and Operation Centre) had made arrangements for vaccine's storage in Islamabad and transportation to provinces," he said.
He said the system for vaccination was in place. "Hundreds of vaccination centers in the country will be administering Covid-19 vaccine. The vaccination of front line health workers will start this week (starting February 1)," he remarked.
Sinopharm also became the top trend in Pakistan on social media on Sunday as people thanked Iron brother China for the support.
Meanwhile, China's CanSino Biologics Inc. has offered 20 million shots to Pakistan as it gets ready to release efficacy results "in a few days" from Phase III trials that have recently been completed in the South Asian nation, according to its local partner.
The Chinese maker of the single-shot vaccine will be giving Pakistan preferential access and pricing, said Hasan Abbas Zaheer, technical adviser at AJM Pharma, the local partner. It has already applied with Pakistan's drug regulator to get approval.
Last week, the NCOC unveiled an eight-step process for registration and inoculation once the vaccines became available. Planning Minister Asad Umar said at the time that the country's Covid-19 vaccination drive would begin this week.
He said that an online portal – National Immunisation Management System (NIMS) – has been created which will be operated by the NCOC. Human interaction within the portal will be minimized to keep the system transparent.
In addition to NIMS, numerous Adult Vaccine Centres (AVC) have been established across the country which will be run by the National Vaccination and Administration Control Cell (NVACC). Coordination cells have also been established at provincial and district levels, the NCOC said.