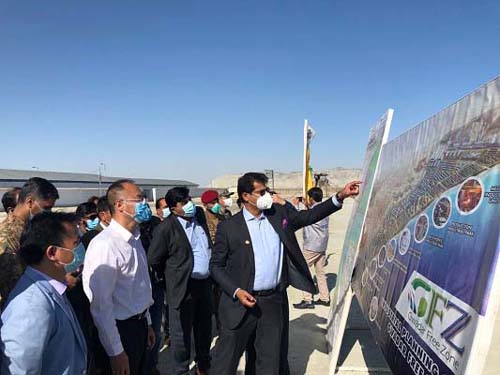 Chinese Consul General in Karachi Li Bijian inspects Gwadar Port
Gwadar Pro
Gwadar: The Chinese government and enterprises will create more job opportunities for local women during the construction of the China-Pakistan Economic Corridor (CPEC), said Li Bijian, Chinese Consul General in Karachi while inspecting Gwadar Port.
The Consul General made the remarks when attending the launching ceremony of the Gwadar Women's Development Employment Centre held this week.
Li said during building CPEC, the Chinese government and enterprises have paid equal attention to the economic development and the improvement of people's livelihood and will continuously support and help local women enhance their employability skills.
The Gwadar Women's Development Employment Centre is sponsored by the Consulate-General of PRC in Karachi and managed by Gwadar Women's Development Organization and China Overseas Ports Holding Company (COPHC), the operator of Gwadar Port.
The Consul General also attended the celebration of the "International Customs Day" jointly organized by Gwadar Customs and COPHC. He extended cordial greetings to Gwadar Customs and its staff.
The Chinese Consul General spoke highly of the newly issued Gwadar Tax Free Zone Rules, 2021. Li urged the Chinese enterprises to obey the local Customs' laws and regulations.
Consul General Li also attended a handover ceremony of donations to Gwadar Police Station, which are donated by the Consulate-General of PRC in Karachi including 40 motorbikes, 10 guard rooms and 10 laptops.
During the visit here, Li also inspected Gwadar Port, enterprises settled in the Gwadar Free Zone, Yulin Plant Tissue Culture Laboratory, among others.