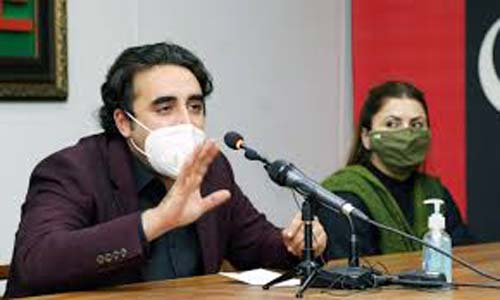 Federal govt doesn't care for common man
Newswire
Sukkur: Pakistan People's Party (PPP) chairman Bilawal Bhutto Zardari has said that the federal government does not care for the common man.
Addressing a gathering in Sukkur this week to distribute 1,024 flats constructed for the workers by the Sindh Department of Labor and Manpower, the PPP Chairman said that the federal government's housing project is for the rich to whiten their black money.
"Whether it is an island or a residential project to be built on the Ravi River, these projects are for billionaires and trillionaires," he said adding that these are not plans like the ones that Zulfiqar Ali Bhutto had made available plots and residential colonies for the poor during his rule.
Bilawal Bhutto Zardari said that in the name of operation against encroachments, the shadow of the roof was being snatched from the heads of poor citizens adding that PTI regime is anti-worker and unless it is ousted, workers will not get their rights.
He said that the provinces were not being given their due share under NFC, institutions like EOIB were not being handed over to the provinces. "Gas was not being provided, while preparations were being made to snatch institutions like NICVD," he added.
The PPP Chairman said that the formula under which the notification has been issued by the federal government for the occupation of hospitals in Sindh is the same formula due to which the health system in Punjab and Khyber Pakhtunkhwa has come to a standstill.
He said that he wanted to empower the workers to have the right to register themselves adding he would soon introduce Benazir Mazdoor Card from Sindh government.
The PPP leader said that despite the financial difficulties, the Sindh government has completed the Labor City plan for the workers, which has provided accommodation as well as treatment and vocational training to the children of the workers.
The PPP Chairman also inaugurated the Children's Emergency Satellite Center set up by the Sindh government in Sukkur, where treatment facilities are absolutely free.