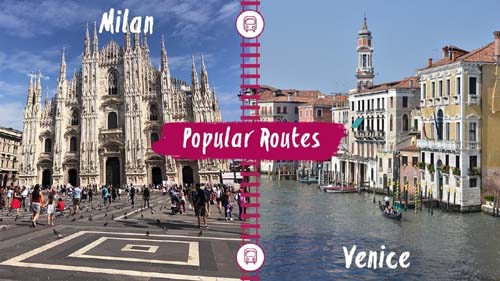 How to get to Venice from Milan
Milan: Traveling to Venice from Milan? Traveling from Milan to Venice is a popular route for anyone visiting Italy for the first time.
Although it is popular for tourists, these defined metropolises are extremely visited among Italian residents. They are both situated in the northern part of the country, which makes it convenient to plan them adjacently.Italy has played a powerful role in Western Civilization and both of these cities have been extremely relevant since before and after. Whether you are planning to see these marvelous, historical destinations for the first time, or you are returning to explore its cracks and crevices… We have conducted a short list of the most convenient ways to get to and from.
By Train: The first being the most suggested transport for obvious reasons, is the train. As this is the quickest option to travel – you will arrive in Venice in roughly 2 and a half hours or less. For 10€ per person, we highly recommend this option, especially if you are traveling solo or in a duet.Conveniently, all trains to Venice run from Milan's Central Station, speckled directly in the city center. This means you should plan your train time accordingly, as you can spend the morning enjoying Milan's most famous shops and restaurants. We suggest checking out Rail Europe for an easy to view schedule in English.
Renting a Car: If you are traveling in a group of four, renting a car is our next suggestion. After gas, it could end up costing more than the train or bus, but a road trip in Northern Italy can be an unforgettable experience! The drive should take you approximately 3 hours, a half hour longer than the train. It is very easy to rent a car from the Milan Malpensa Airport – many companies like Hertz, Budget, Avis, Enterprise and more offer standard vehicles for as little as 30€ per day.We also recommend checking out the website Interrent, which makes the process of choosing a rental car easy, enjoyable and cheap.
The Bus: Our third and final suggestion is traveling to Venice by bus. The location of Milan's Lampugnano bus station is also conveniently centered, and every bus arrives at Venice's Tronchetto bus station.Traveling in Europe can be costly, so we suggest this option if you are looking to save a few extra euros. It will be a bit longer of a ride – normally lasting 4 hours and 10 minutes to arrive. Most buses are direct, which is why we have listed this as a liable option to get to Venice.
The buses are run by either Flixbus, Baltour, or BusCenter, and tickets are normally 8€ each.
As several different bus lines can cause a few to seem very random, check out the website Kombo. It will help you decide which line, price and time is best for you. So, we know it is most common to travel via bus or train – so if those seem to be your two options, it really depends which you personally prefer.
In conclusion: If you want to save time, take the train. If you want to save money, take the bus. If you want a unique experience with your friends, look into renting a car.