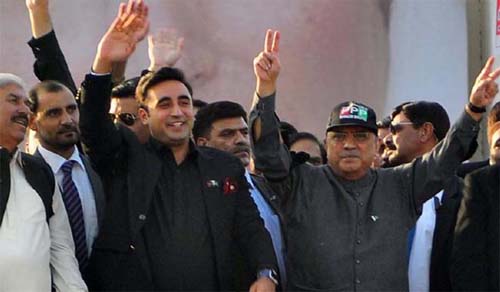 Bilawal Bhutto, Zardari re-elected as PPP, PPPP heads
Newswire
ISLAMABAD: Bilawal Bhutto Zardari and Asif Ali Zardari have been re-elected unopposed as the Chairman of the Pakistan People's Party and the President of the PPP Parliamentarians. The top leaders have been re-elected for another four-year term.
The intra-party elections of the PPP at the federal level were held in Karachi on January 6 "in accordance with Constitution of the PPP and the country's Elections Act 2017" and election commissioner Fauzia Habib announced the results.
Besides Bilawal Bhutto, Syed Nayyer Hussain Bukhari has been elected unopposed as the PPP secretary general, Faisal Karim Kundi as secretary information and Rukhsana Bungash as secretary finance.
Nayyar Bukhari said that since they had been elected in January 2017, the intra-party elections had become due under Article 208 of the party's constitution after completion of the four-year term.
Bukhari refuted the impression that the party elections had been kept a secret, saying the process had been completed strictly in accordance with the party's constitution and rules. He declared the intra-party elections as an internal matter of the party.
Later this week, the PPPP held its inter-party election and former president Asif Ali Zardari was re-elected its president unopposed for four-year term.
According to the PPP Parliamentarians chief election commissioner Senator Farooq Naek, besides Asif Ali Zardari, Farhatullah Babar was re-elected secretary general, Shazia Marri was elected information secretary and deputy chairman Senate Salim Mandviwalla was elected finance secretary of the party.
The PPPP has been registered with the Election Commission of Pakistan (ECP) with late Makhdoom Amin Fahim as its president with the permission of the then chairperson of the party, Benazir Bhutto, before the 2002 general elections when military ruler Pervez Musharraf through a legal framework order declared that the parties headed by convicted persons could not take part in the elections.
Since 2002, the party which had been founded by former Prime Minister Zulfikar Ali Bhutto in 1967 is being represented in parliament with the name PPP Parliamentarians.