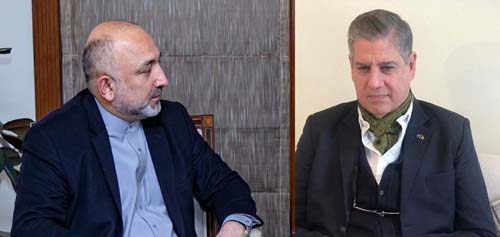 Ambassador Stefano Pontecorvo, Hanif Atmar discuss Doha talks
Newswire
Kabul: Afghan Minister of Foreign Affairs Mohammad Hanif Atmar and NATO Senior Civilian Representative for Afghanistan this week discussed the resumption of the second round of talks in Doha and the future of the alliance mission in Afghanistan.
Atmar held a telephonic conversation with SCR Stefano Pontecorvo and highlighted the importance of NATO's continued support to peace, security and stability in Afghanistan, his office said in a statement.
Atmar expressed grave concern over the Taliban's access to sophisticated weapons, including drones.
He noted that for the peace process to succeed, the drawdown of NATO troops should be condition-based considering realities on the ground.
SCR Stefano Pontecorvo said that the ongoing talks in Doha between the Afghan government and the Taliban was the only path to peace, and NATO strongly supported ongoing peace efforts. He added that NATO would closely work with Kabul to build a regional and international consensus around the peace process.
Atmar appreciated NATO's statement on Dec 9, 2020, regarding the peace process that urged the parties to build on the "momentum by agreeing to end the violence immediately and by negotiating toward a permanent and comprehensive ceasefire and a political roadmap for a prosperous Afghanistan, at peace with itself and its neighbors."
The Foreign Minister expressed optimism that the NATO mission would continue to train, advise and assist the Afghan security forces until terrorism and militancy were completely uprooted in Afghanistan.
Atmar pointed out that with the peace negotiations underway, the Taliban have increased targeted killings of government officials, journalists, civil society activists, and political figures. He urged NATO to continue to support the government's position on preserving the last two decades' achievements, including respect for human rights, the rule of law, democracy, and freedom of speech in the country.